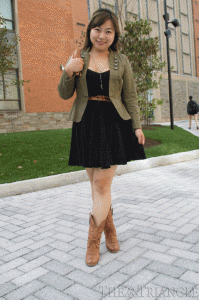 Zhengyuan Bi, television management graduate student
Wearing: Urban Outfitters dress, H&M coat and belt, MIA boots
 Q: What is your favorite fall transition piece in your closet?
A: During the fall, it is very important to have some coats. You can add it [to] the dress, and find a nice boots to match it, then you will have a perfect look for fall.
Q: What are you wearing on your lips today?
A: I used Sephora rouge lipstick first, and then layered on Dior Lip Maximizer.
Q: What do you see is the biggest difference between fashion in the U.S. versus China?
A: The styles that people like are completely different. Asian girls like babydoll dresses, lace and Vara Bow; very feminine clothes. American girls are more modern and sometimes look casual, but still stylish.
Q: What song has been on repeat on your playlist lately?
A: I have liked the song "Should it Matter" by Sissel Kyrkjebo for a long time. This song has always touched my heart whenever I hear or I sing it.
Want more? Check out Adam Jordan, Ariel Kerry-Gnazzo, Jacqueline Weissman, and Haley Liss in the first live segment of Street Style at https://www.thetriangle.org/style!