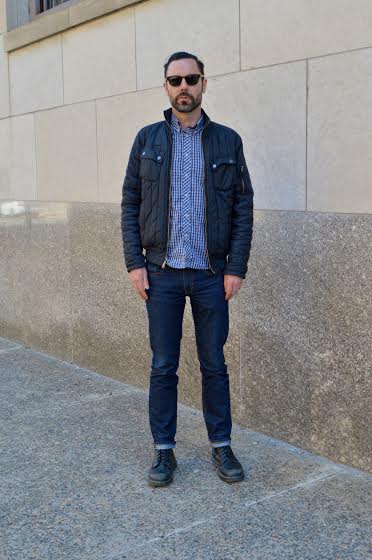 Dr. Brent Luvaas, Anthropology professor and blogger of Urban Field Notes
The Triangle: What are you wearing today?
Brent Luvaas: Urban outfitters bomber jacket, Ben Sherman plaid button down, Levi's jeans, Dr. Marten black boots, and Steve Allen sunglasses
The Triangle: How would you describe your personal style?
BL: Shifting over the last few years, I have been going for a professor look with a little bit more of an edge.
TT: Have you faced any challenges with your blog?
BL: Finding people at the right place and time who have a distinctive style
TT: What three items in your closet do you cherish the most at the moment?
BL: My Urban Outfitters bomber jacket, a good pair of jeans and a plain white t-shirt
TT: What are a few of your favorite stores?
BL: Century 21, American Apparel and thrift shops like Greene Street and Buffalo exchange
TT: What fashion advice you would give to young adults?
BL:  Be comfortable in your own skin. Don't wear something because it's trendy, wear it because it makes you feel empowered.
TT: Are there any trends you are looking forward to wearing in the summer?
BL: My new khaki shorts from Uniqlo, and going casual for the summer