Pauline Nyren | Sophomore | Graphic design
Wearing: American Apparel overalls, thrifted blouse, thrifted shoes, Forever 21 sunglasses, Espresso Exposed lipstick by Maybelline
Q: How would you describe your personal style?
A: Oh man, this is the hardest question. I guess my ideal form is, like, "mod witch goes to space," but I'm usually a much tamer version of that.
Q: What is the strangest/most interesting article of clothing in your closet?
A: I have this beaded jacket that's completely covered in sequined hearts that my friend tried to put back on the rack. … I haven't worn it yet because I need the right event. I also have a bunch of really formal dresses that I'll probably never get to wear. I just bought them because they were cheap and I liked them.
Q: What trend are you most excited about now that spring has finally arrived?
A: I'm obsessed with overalls right now; I need to get more pairs. I'm also just excited to be able to wear summery dresses and little jackets. Oh, and shoes that aren't boots!
Q: Is there a fashion trend that you wish never came into style?
A: Those Jeffrey Campbell Lita Boots, definitely.
Q: What is your go-to outfit on a lazy day?
A: In the winter, warm leggings and a long sweater. In the spring, it'll probably be overalls or an easy dress with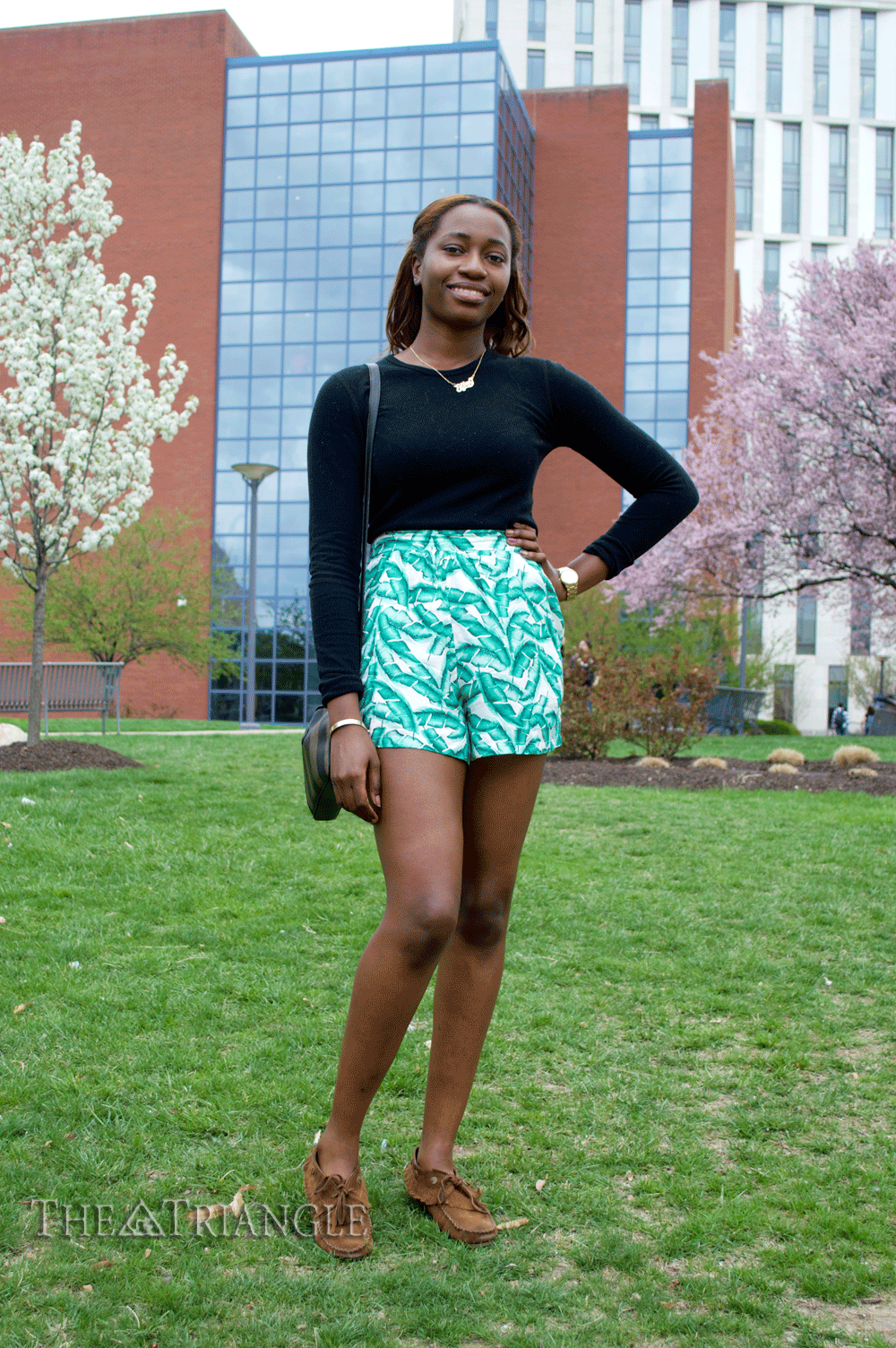 Deja Williams | Freshman | Design & merchandising 
Wearing: Zara shorts, Minnetonka shoes, American Apparel shirt, Michael Kors gold watch, Fendi bag
Q: How do you typically choose your outfits each morning?
A: I think it really depends on my mood. Some days I like [bohemian] style, while others I go toward more classic style.
Q: Who are your style icons?
A: Some of my style icons are musicians such as Beyoncé and Rihanna. I am inspired by their fashion.
Q: Do you have any favorite songs by each of the artists?
A: My favorite song of Beyoncé's is "Flawless." I can't pick one for Rihanna; I pretty much like all of her songs.
Q: What are you most excited to wear in your closet currently for the spring?
A: I actually just bought a dress that I haven't worn yet. It is a cute floral dress from Zara that I am excited to wear.