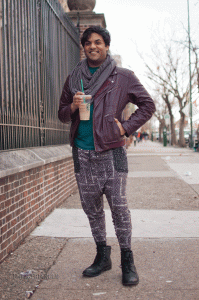 Ajay Raghavan, senior, biomedical engineering
Jacket — Bar III, T-shirt  — Target, pants — Urban Outfitters, scarf — American Apparel, boots — Kenneth Cole

Q: How would you describe your sense of personal style?
A: I'd like to think my sense of personal style changes from day to day depending on how I feel or what I'm doing with my day. You could call me a chameleon in that sense, I suppose.
Q: Are you more prone to invest in statement pieces or staples?
A: At this point, definitely statement pieces. However, I think a delicate balance of both is crucial. Too many staples make you look blase and basic, and too many statement pieces and you run the risk of looking like Professor Trelawney from "Harry Potter." But, I suppose if that's your prerogative, more power to you.
Q: What were your new year's resolutions?
A: I guess be the best version of myself? I just try to make every year better than the last.
Q: How do you feel about Beyonce?
A: I'm sorry, if you don't like Beyonce or find her to be "average at best," you can sign yourself up for an investment banking class, buy a whole lot of stock in Raymour and Flanigan and proceed to take SEVERAL seats. Seriously, I don't think you could find a more exemplary version of a musical icon in today's day and age.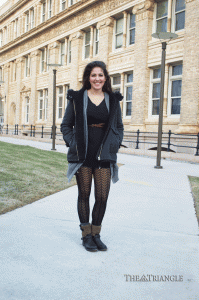 Eleni Stathakos, sophomore, graphic design
Boots — Aldo, tights — Express, sweater — Urban Outfitters, T-shirt dress — a boutique in Brooklyn, woven belt — borrowed, jacket — Zara
Q: What is your most worn winter accessory?
A: My most worn winter accessories are scarves. They keep you super warm and add a whole new style to an outfit.
Q: Do you think being a graphic design major has influenced your style?
A: I do not think it has. I went to an art school in New York City for high school which I think influenced my style a lot. I was around creative people 24/7 and it inspired me to dress to express myself.
Q: What is one of your new year's resolutions?
A: One of my new year's resolutions is to stop procrastinating!
Q: What do you never leave the house without?
A: I never leave the house without my sunglasses. My favorite pair [is] my Shwood sunglasses. They are handmade wooden glasses. I also love aviator-style glasses.