In collaboration with Courtney Denton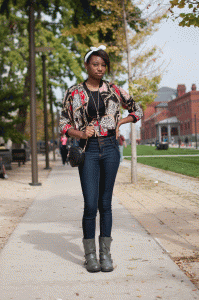 Ayanna Harris, senior in Digital Media
Wearing:Forever 21 jacket, Papaya Clothing pants, Wet Seal boots, DSW bag
Who or what do you look to for style inspiration?
I find myself following the styles of dancers (things that are easy to move in). I also find inspiration from '90s hip-hop styles and pin-up fashion.
What trend, if any, are you looking forward to trying this fall?
I am really getting into long-sleeved dresses this fall (maxi and skater). I know the weather is getting colder, so usually I stray away from outfits that show my legs, but I am still on the hunt for a long-sleeved black skater dress.
Your jacket is such an awesome '80s print. What print or pattern would you never wear?
I usually avoid thick vertical black-and-white stripes and thin horizontal black-and-white stripes. Thick vertical stripes make your legs look longer (if you wear them on the bottom). I am already tall, so I don't need the illusion of looking tall. Thin horizontal stripes look bad on camera (looks like things are moving on your shirt). If I am ever randomly caught on camera, I don't want my shirt to look like bugs are crawling all over [it].
You're part of a K-pop dance team. How do you translate your personal style into your costume choices?
After we all agree on a color or pattern, I usually look for a crop top or high-waist shorts (recently obsessed with both) that would fit that. And then I always bling it out with a big, chunky necklace or big, sparkly earrings just to set my outfit or style apart from the others.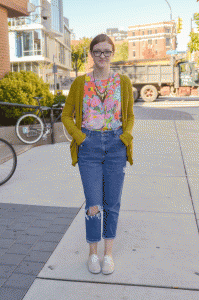 Sam Laverty, senior in Design & Merchandising
Wearing: Grandmom's top, Free People cardigan, thrifted jeans
What are you wearing? Where did you get the pieces?
I'm wearing a bright floral-print top, mustard cardigan and high-waisted destroyed jeans. The top is my grandmom's, the cardigan I got from a sample sale, and the jeans I thrifted for $5!
Who or what inspires your personal style?
I'm inspired every day by people and things I see, both in the city and online. I love observing street style and interpreting it to fit my style. I also love the Free People brand and look to them for styling inspiration.
How will you adapt your style as the season changes?
[It's] all about the layering! Adding a cardigan or vest to an outfit will help translate summer tops to warmer fall styles.
What is your favorite thing about the fall season?
Fall is my favorite season because of the changing weather and the start of holidays. My birthday is in fall, so starting with Halloween, the celebrations begin!
What piece are you looking forward to breaking out?
Boots! And my leather jacket. Both are comfortable and stylish.