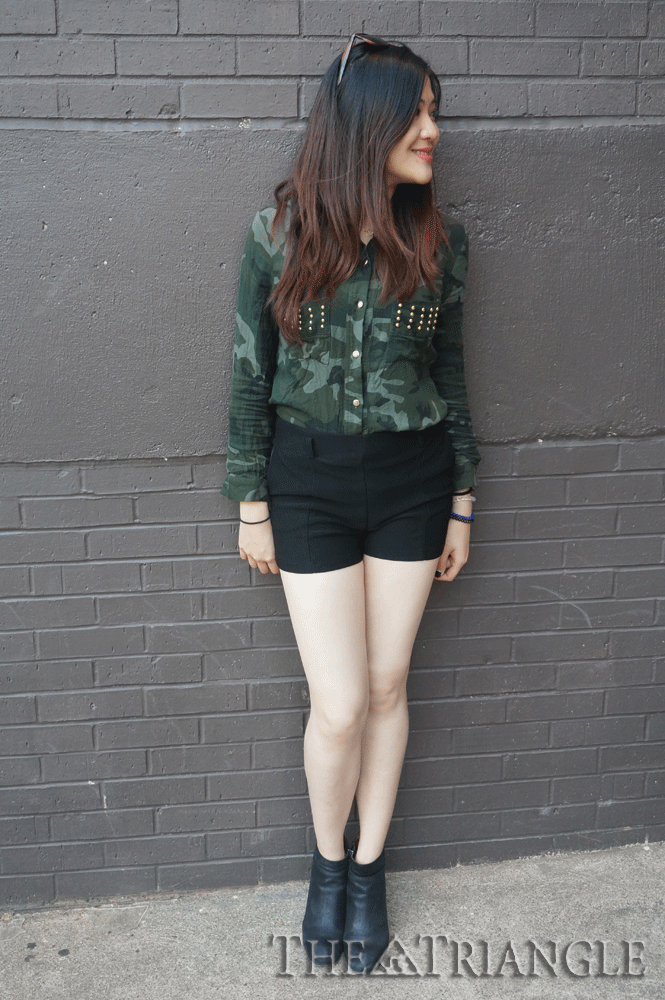 Xiwen Miao | Finance & Accounting | Sophomore
Wearing: Just Something camouflage shirt, shorts from boutique in Hong Kong, Now leather boots and Urban Outfitters sunglasses 
Q. How would you describe your personal style?
A. My personal style is simple yet comfortable. I tend to wear a lot of black: the color is minimalistic and you can never go wrong with black.
Q: What are your favorite clothing stores around campus?
A: I love Piper Boutique and Bonded Boutique. They are always on trend and their pieces are very unique. I actually bought a dress from Bonded Boutique for formal and received a lot of compliments.
Q: From where do you get your style inspiration?
A: I read a lot of fashion blogs, and Instagram is always keeping me up to date. 
Q: What trend if any are you looking forward to trying this summer?
A: I am excited to try lace crop tops and pair them with distressed shorts.
Q: What is the one thing you can't live without in your wardrobe?
A: My sunglasses from Urban Outfitters. They are essential during this time of the year.