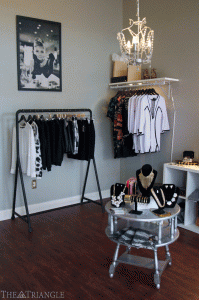 As winter arrives, we naturally start to transition our wardrobes from vibrant summer colors to ethereal black hues. Sometimes it can be difficult to find trendy and classy clothing pieces for a reasonable price. Located on the corner of 40th Street and Lancaster Avenue, a few blocks from Drexel University, is where you can find the Legacy Boutique. While most boutiques around University City are overpriced, fortunately for us college students, Legacy has a rule that everything in the store is under $50.
The boutique was founded by Courtney Fentress and Fakira Brooks in a unique way. Through social media, the two were able to connect and begin the story of Legacy Boutique. Both business partners developed an interest in fashion but didn't want to fully pursue such a demanding career within the fashion industry. Rather than giving up what they love, they opened Legacy Boutique, a boutique targeting young adults, in August 2014. The tall Victorian windows give Legacy a tranquil and harmonious atmosphere while the Audrey Hepburn black-and-white portrait gives the store a vintage yet classy finish.
The shop's merchandise is all women's clothing, shoes and accessories. Ladies will find attire that can easily transition from work to evening-wear. Fur fall vests, crop tops, body-con skirts and faux leather skirts can be purchased at reasonable prices. Prices range from $10 for a necklace and no more than $35 for a black sweetheart dress. Students also receive a 10 percent discount with a valid ID. The trendiest item this season, according to Fentress, is the "Londyn" trench coat. The coat features a boyfriend-style cut that gives it an edgy look, meaning it can be worn to the office and later for a night out.
"We have a lot of loyal and returning customers," Fentress said, emphasizing that their customers' preferences impact what merchandise is featured and purchased. In fact, she explained that, "[Legacy Boutique] gets new stock every month, [and] sometimes customers will request specific styles." The partners take time to select quality clothing for customers from New York, California and online stores.
At this point they are excited to see the store grow and to impact as many women as possible, by showing them that they are capable of dressing classily and sexily. Empowering young adults to dress in a sophisticated manner is what Legacy is aiming for. By next year, they anticipate on opening a boutique in New Jersey and expanding their online shop. They hope to eventually reach out to customers across the U.S. and internationally.