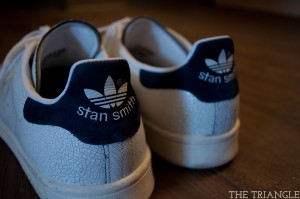 When people think about the hottest shoe trends, some may think of the Isabel Marant sneakers, the Chanel brogues, or the Chloe gladiator sandals. However, no one would ever believe that a pair of Adidas Stan Smith sneakers would ever make the cut. With a price at $75 dollars, the pair of sneakers are essentially affordable compared to other it-shoes, which can range anywhere from $500 to $1,000 dollars.
The classic sneaker was officially named after the tennis player, Stan Smith during the 1970's, and had sold over 22 million pairs during the 1980's. However, the sneaker made its place in the fashion world when Phoebe Philo, creative director of Céline took her bow at the French label's Spring 2011 show. The designer wore her Adidas Stan Smiths with a pair of navy blue tailored pants, and a loose grey turtleneck. Many would argue that Philo had officially endorsed the classic sneaker, and made it into one of fashion's most popular and affordable trends today.
The sneaker itself is designed with a white leather upper and base, has white laces, and does not have the traditional Adidas three stripes. Instead, the Stan Smith design replaced the three strips with three rows of perforations on both sides of the sneaker. The tongue of the shoe also includes an image of Stan Smith himself. Lastly, on the back of the shoe, there is green foam padding with the Adidas logo, and the words Stan Smith. Over the past few years, the foam padding has included different colors including red, blue, and black, but the design of the sneaker has remained the same.
After Philo's finale bow at the Céline show, many fashion editors, bloggers, models, and designers began following her sartorial footsteps. The sneaker became part of every fashion figure's closet, and is worn in many individualistic and unique ways. According to Alice Pfeiffer, fashion writer at l'Espress Styles magazine, the Stan Smith sneakers "feel, almost look and can be styled like regular flat lace-ups. So while sneakers are back in trend, it's a little harder to wear crazy [Nike] Air Max in elegant Paris than the casual Stan Smith." According to Simon Atkins, Adidas America's head of Sport Style, "no matter what your style is, the Stan Smith just works. Every sneakerhead and influencer has a pair, no matter what their brand preference is."
The sneakers were immediately sold out worldwide after its release. During New York fashion week, almost every show attendee would stop by the Adidas store between shows to pick up a pair. Danielle Prescod, Elle.com's Fashion Editor bought a pair during fashion week, and has been wearing them everyday since then. Prescod shares how when she stepped inside the brand's flagship store, "everyone was there- stylist Kate Foley, the Who What Wear fashion team," and how, "the next day, [blogger of the Man Repeller] Leandra Medine came up to me and was like, 'I really want to get those sneakers!' Then Rebecca Minkoff told me she's been looking for the sneakers too!"
The success and influence of the Stan Smith sneakers have become so enormous, that other designers have been taking cues for their own collections. French designer Isabel Marant copied the classic style for her Pre-Fall collection, and Saint Laurent included a leather white sneaker similar to Adidas's design that retailed at $575 dollars. According to Atkins, he says, "it's no surprise that other brands take inspiration out of it."
Although Adidas is currently low on stock with their Stan Smith sneakers, the company has announced that they will be shortly restocking due to a high demand. In addition, Jeffrey Kalinsky, VP and Fashion Director for Nordstrom says, "A great variety of versions with different materials and colors will be introduced over the year."