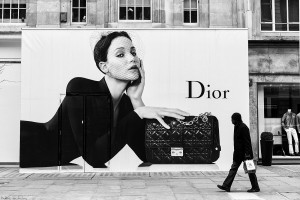 Raf Simons announced Oct. 22 that he is leaving his position as artistic director at Christian Dior. The 47-year-old designer has held the title at the legendary fashion house since 2012, and made his decision to leave "based entirely and equally on my desire to focus on other interests in my life, including my own brand, and the passions that drive me outside of my work," according to Vanessa Friedman and Elizabeth Paton of The New York Times. The designer is also the founder of his own Belgium-based menswear label, Raf Simons.
Since the 2011 departure of the house's previous creative director John Galliano, Simons was able to bring a refreshing and modern vision with Dior's classic silhouettes including the bar jacket. Many of the industry's editors and stylists still remember his first collection he designed for the house, where he printed artworks by artist Sterling Ruby on a couture gown, a first for Christian Dior.
The news came as a shock for many of the industry's editors, including Stefano Tonchi, editor-in-chief of W Magazine. He said to Friedman and Paton that, "I think that in a short time he has really accomplished a lot. He has really brought Dior into the contemporary conversation in a certain way it was not with John, the last years with John."
Simons presented his last collection this past spring summer 2016 season during Paris fashion week. The collection was staged under a flower dome at the Louvre. He received lots of positive reviews, and notable celebrities including Rihanna attended the show.
News on Simons' replacement as creative director has not been announced yet. The fashion house's next pre-fall collection is scheduled to begin in January and will be designed by Dior's in-house team.