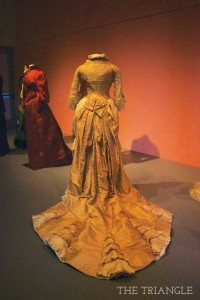 The Robert and Penny Fox Historic Costume Collection opened their latest exhibition, Immortal Beauty, on Oct. 2 at the Leonard Pearlstein Gallery. The exhibition, and includes over 75 garments and accessories by legendary designers such as Gabrielle Chanel, Halston, Christian Dior, Mary Quant and Cristobal Balenciaga to name a few and was made possible by generous donations from the Richard C. von Hess Foundation. The exhibition is displayed in a retrospective layout, where audience members can view the Costume Collection's highlights from over more than 300 years.
Immortal Beauty features garments and accessories from as early as the Renaissance period up through modern times. Philadelphian designers such as Ralph Rucci also have pieces showcased in the exhibition. Several main attractions include a red evening gown designed by Hubert de Givenchy, which was worn by Princess Grace Kelly of Monaco in 1964 and an evening gown designed by Halston for Sandra Blumberg in 1978. Plenty of accessories are also showcased as well including a pair of 1940 evening shoes by Salvatore Ferragamo, and a 1963-1964 pink Givenchy bag.
Clare Sauro, curator of the Costume Collection, was responsible for overseeing and leading the production of Immortal Beauty. Since the beginning of the production process, Sauro had a clear vision of what she wanted the exhibition to reflect. Sauro said, "We knew we had to talk about the highlights of the collection. This was our debut … There are a lot of misconceptions about who we are and why we exist. So we had to tell the story about our collection, and we knew we had to make Drexel proud." Sauro's curatorial assistant, Virginia Theerman says, "It's been a yearlong process. We have an excellent team of people, and we were able to pull it all together." This team, including Theerman and Sauro, consists of Cara Fry, an art historian and wife of President John A. Fry, Cathy Maguire of Maguire Designs who served as the exhibition designer, Rebecca Shea of RCS Fine Art, Jody Graff, program director of graphic design, Michael J. Shepherd and Caitlin Cooper. Sauro worked very closely with Fry, and said, "Cara has a great curatorial eye, and she's a terrific editor. She a wonderful person to have as part of my team."
The process of selecting which pieces would be displayed in the exhibition all started with a list. As Theerman explains, "we started walking through the aisles of the collection storages, looking at what we wanted to pull out. We knew we wanted to focus on showcasing the best of the best." To define what best means, she said, "We would look at the condition of the dress, is it visually exciting, the history behind each garment, the donor of the garment and the public wow factor."
Sauro and her team had to work with incredibly delicate pieces, especially those dating back to the 1700s. In order to maintain the condition of the piece, Sauro explained, "We are very careful. We typically wear gloves, but sometimes you can't wear gloves because you need to wash your fingertips." "Our space is very clean," she continued, "You can't drink coffee and you can't use pens." For the pieces that are extremely delicate including a polonaise dress, Sauro had to hire an independent dresser since "she's a professional dresser, and she's familiar with historical garments and can take the time to do it herself while we could focus on other things," according to Theerman. After the selection process, each mannequin would then have to be specifically carved down to the proportions of each dress, so that it would fit the time period and the woman who wore that piece.
Although the production process went relatively smoothly, there were several challenges Sauro and her team had to face. The biggest challenge was cutting a piece from the exhibition that the team loved because it wasn't in good enough condition to dress on the mannequin. "There were a couple of times where there was a piece that we really loved and wanted to show, but the condition wasn't good enough. It was too old, too fragile and worn too many times before it came to us. When the team dresses a garment, they need to make sure the garment is sturdy and stable enough," Theerman continued.
Out of all the pieces from the collection, Sauro's favorite is the teal velvet 1920s Callot Soeurs piece. "I love the coloration, I love the embroidery and I love the fact that they used copper thread and not gold. It's beautiful! It's just fantastic," she said ebulliently.
Since Immortal Beauty is the Costume Collection's first large-scale exhibition, both Sauro and Theerman are incredibly excited to share their story to Drexel's community. Theerman said, "I'm excited to see everyone react to it, and their thoughts and ideas about it. It's just really cool to see this long-term process come together." Sauro felt a similar way, and explained how her ultimate goal for Immortal Beauty is "that this exhibition stirs up more research, support and donations so that it can be the thing that introduces us to the new students and researchers. That is why we are here."
Immortal Beauty is free and open to the public from Tuesday to Sunday, and will be on display from Oct. 2 to Dec. 14 at the Leonard Pearlstein Gallery, located at 3401 Filbert St.