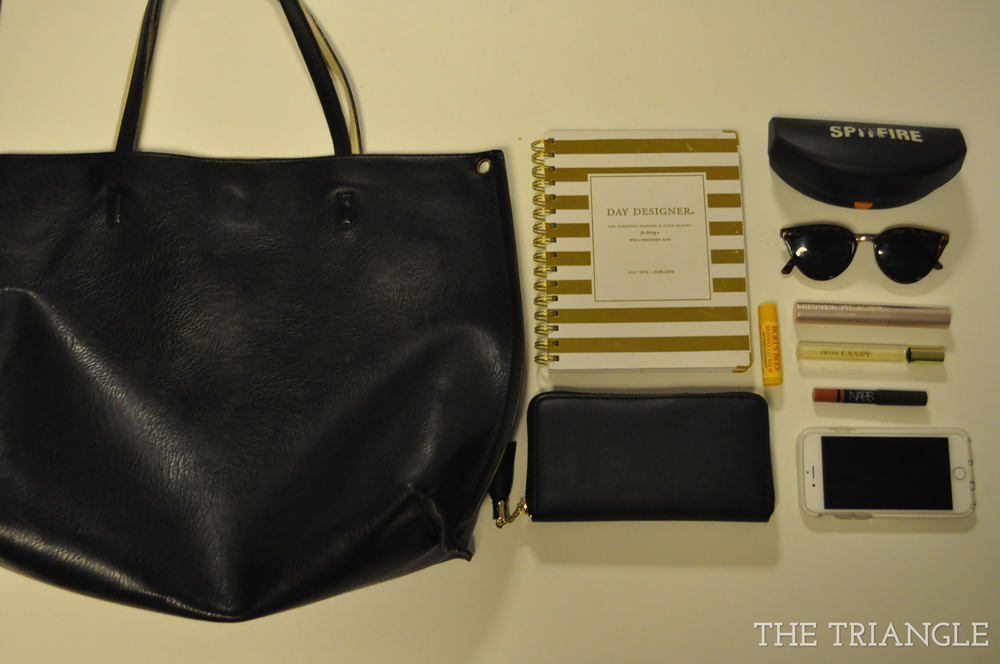 Erika Simone Wiley, a sophomore majoring in fashion design, is always running around the city. Whether it's sewing a jacket at the URBN center, buying swatches on South Street or buying art supplies for class, this girl is on the move. We got a chance to find out what Wiley carries in her bag on a busy day.
Wiley's black leather bag from Urban Outfitters was a Christmas gift from her mother. "It's my everyday bag! I can fit so much in this bag, which is super convenient," she said
Her Two Faced mascara, Better Than Sex, is a staple in her makeup bag. Wiley says, "It truly is the best mascara for lengthening and adding volume to my lashes."
A Prada perfume named Candy is also a Christmas gift from her mother. Wiley expressed her love for this perfume, noting, "I wear it on the colder seasons since it's stronger and robust."
Burt's Bees lip balm keeps Wiley's lips from being ashy. She uses it on a daily basis, and she usually puts it on before any other lip product.
Wiley's most recent gift from her mother is an iPhone 6S that she got a week ago. She said, "I absolutely love it! It has a great camera, the Internet is fast and it has great sound for my music."
Wiley's black wallet from Nordstrom is also something she carries around on a daily basis.
Her planner from Day Designer is "one of the cutest and chicest daily planners I've ever come across," she said.
Her Spitfire sunglasses are also from Nordstrom. She said, "I've had them for about three years now. They are adorable, chic and the perfect frame for my face."
Wiley's Nars lipstick in Rikugien was a free sample she got for her birthday from Sephora. She uses it during the day. "Even though it's a lip pencil, I use it as a lipstick. It's a satin finish, and I find it very moisturizing. It doesn't make my lips feather, and it stays on for a good amount of the day," Wiley said.