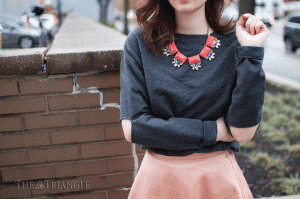 This past season saw elements of the ultimate lazy uniform — sneakers and sweatshirts — infiltrate fall collections from Maison Martin Margiela to Madewell. If this isn't concrete evidence for the trickle-up theory, I don't know what is. Take a cue from industry forerunners and update a workout staple with edgy cut-out details.
Materials:
Sweatshirt
Pins
Scissors/fabric shears
Needle and thread
First, put on your sweatshirt. Using a pin, mark the point of your elbow on your sleeve. With your sweatshirt off, fold it in half and take care to line up the sleeves. Mark the same place on the second sleeve with a pin. This will ensure your elbow slits are symmetrical. Use your shears to cut an elbow slit. Turn your sweatshirt inside out, fold over the raw edges of your slit and sew them closed using an overcast stitch. Now you can rock an elevated sweatshirt that is anything but ordinary.