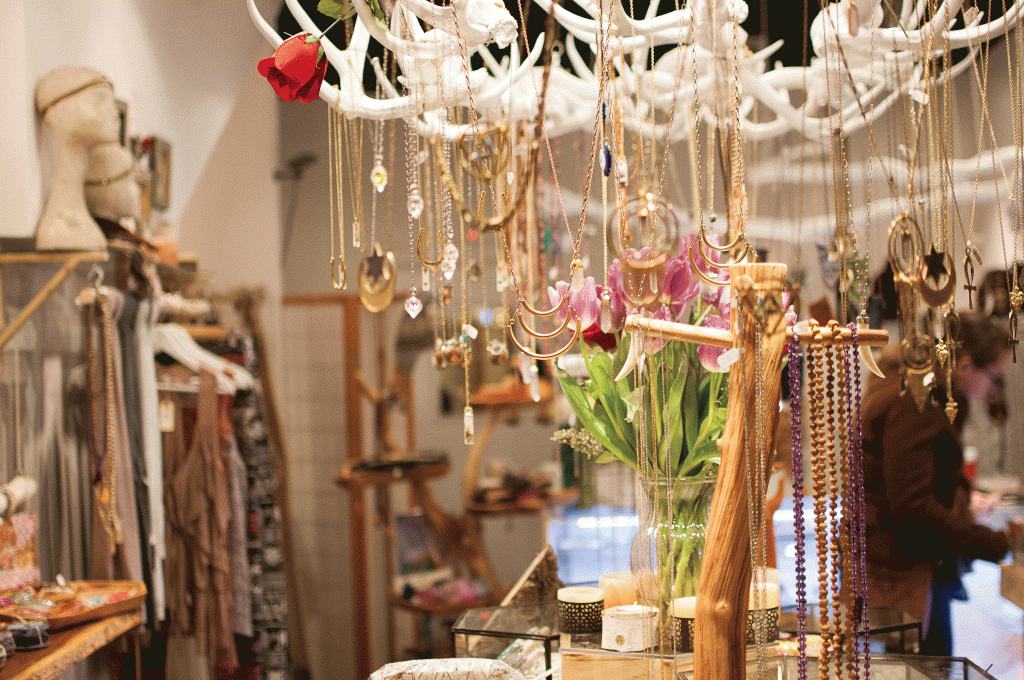 Wholly inspired by a globetrotting, bohemian spirit, Sarah Lewis doesn't design for seasons or trends.
The independent designer behind Adorn by Sarah Lewis launched her j
ewelry collection and Fishtown showroom in 2010. Adorn features two core collections titled Light & Love and Band of Gypsys, and Lewis releases new designs organically as the inspiration comes to her.
"I believe that our jewelry is cross-seasonal, and many styles are timeless," Lewis said. "For this reason, our two collections — Love & Light and Band of Gypsys — are ever-evolving." Lewis only recently decided to split her jewelry into two collections in order to cater to a more defined target customer. She describes Band of Gypsys as bold, show-stopping and often ethnically inspired pieces. Love & Light c
onsists of more delicate designs inspired by nature and the yoga lifestyle. Lewis retires older styles as new ones take their place, but she also takes care to keep customer favorites as permanent parts of her collections. She attributes part of her success to this novel approach and flexibility. Moreover, she sees a reflection of herself in both collections and only designs pieces she herself would wear.
Lewis adheres to a "less is more" mentality when developing her designs and notes that her bestselling styles are simple in nature.
"Our Signature Crystal Necklace is a perfect example of this. Because it is just a natural quartz crystal, with a gold plated setting, on a gold chain, it's a necklace that any woman can wear, for almost any occasion," Lewis said. "Our Turquoise Trifecta Necklace has also been a best-seller, partially because Urban Outfitters purchased and featured it, and also because the triangle trend really exploded after we released it."
Her favorite material to work with is quartz crystal, due to the energy it carries and its versatility. Sometimes she employs the stone in its natural shape, as in her Quartz Crystal Talon Ring, but it can also be cut into any more refined or elegant shape she dreams up.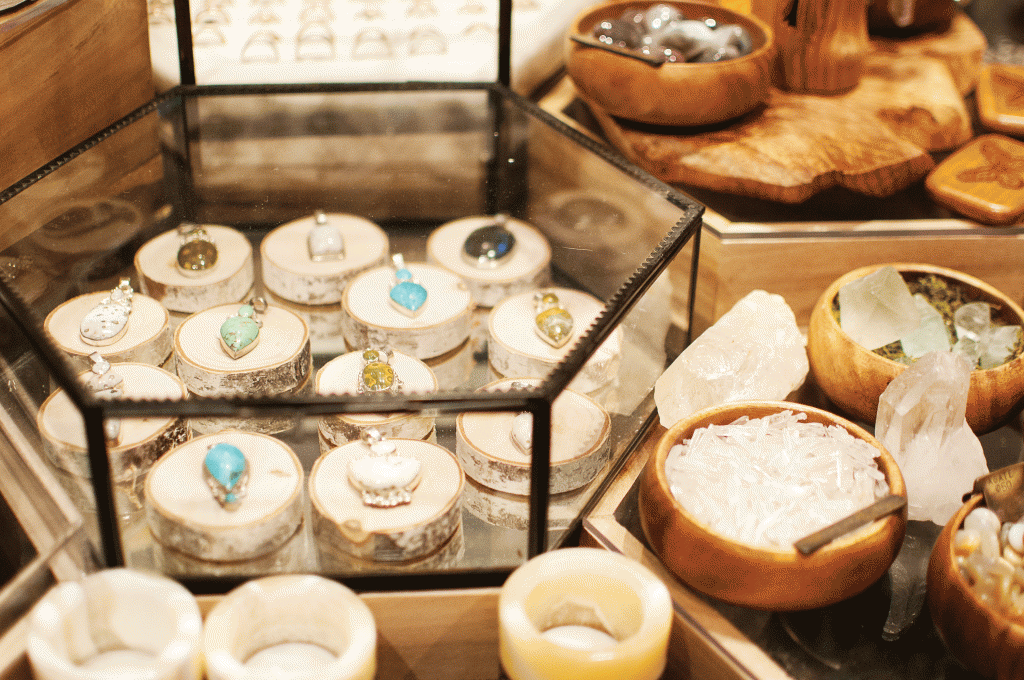 Lewis also designed the interior of her Fishtown showroom and boutique to reflect the eclectic nature of her brand. Crystal pendants dangle from painted branch fixtures.
After working as an accessories designer for Free People in Philadelphia, Lewis made the ambitious decision to embark on her own business venture. Apart from a team of artisans who help produce her designs in New York, Thailand and India, the pieces in Lewis' collections are of her own creation.
"The differences between working on a team for a large company with a corporate structure and venturing out on your own as an entrepreneur and building a brand from the ground up, are like night and day," Lewis said. "Running every aspect of my company can be a bit draining at times … but for now, I am enjoying the freedom of making all of my own creative decisions, despite the endless amount of work that it can be sometimes."
Lewis still works closely with Free People and recently worked tirelessly to fulfill an order for the brand. Her pieces have also been featured in Urban Outfitters, Anthropologie and a myriad of independent boutiques. Now Lewis is hoping to expand her Web business and grow her Fishtown showroom as part of the neighborhood's up-and-coming small business landscape.
Photos by Courtney Denton