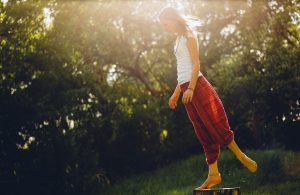 Dear Freshman,
Welcome to the first year of the rest of your adult life. You made it past high school, you got accepted to a great school and you have so much to look forward to in these next five years. Being in such an urban area, you'll be exposed to so much art and self expression. All those rules your high school principal doomed you to, like making sure your straps are two finger lengths wide and that your skirt reaches below your fingertips, are long gone. You now have the power to choose whatever makes you feel fabulous.
However, there's one trend I request you leave inside your dorms: unflattering, baggy sweatpants. Yes, I can agree that sweats are the ultimate comfort option when it comes to pants, but you're becoming a young professional. Now is the time to present yourself as such. When you just pulled an all-nighter to ace that 8 a.m. exam, you get a pass to wear sweatpants, but otherwise — pull yourself together and dress to impress.
Don't worry, this isn't me forbidding you from wearing that atrocious article of clothing ever again in life, but don't make a habit of wearing them frequently. Take my advice and thank me later. When you look good, you feel good. When you look like a slob, that reflects onto your all-around demeanor. Philadelphia has many great options when it comes to clothing stores, and if you are not yet sure what your style is, now is the perfect time to experiment and find out. Try out new options and forget the days of shopping in your favorite mall chain store. Say goodbye to Charlotte Russe and Hollister and dive into new adventures. Find your favorite boutique in Old City, or rummage through racks at a thrift shop like Buffalo Exchange to find unique pieces that really speak to you.
So go out, be free, get out of the sweatpants mentality, and be the bad biddie you are.
XOXO,
Ellie