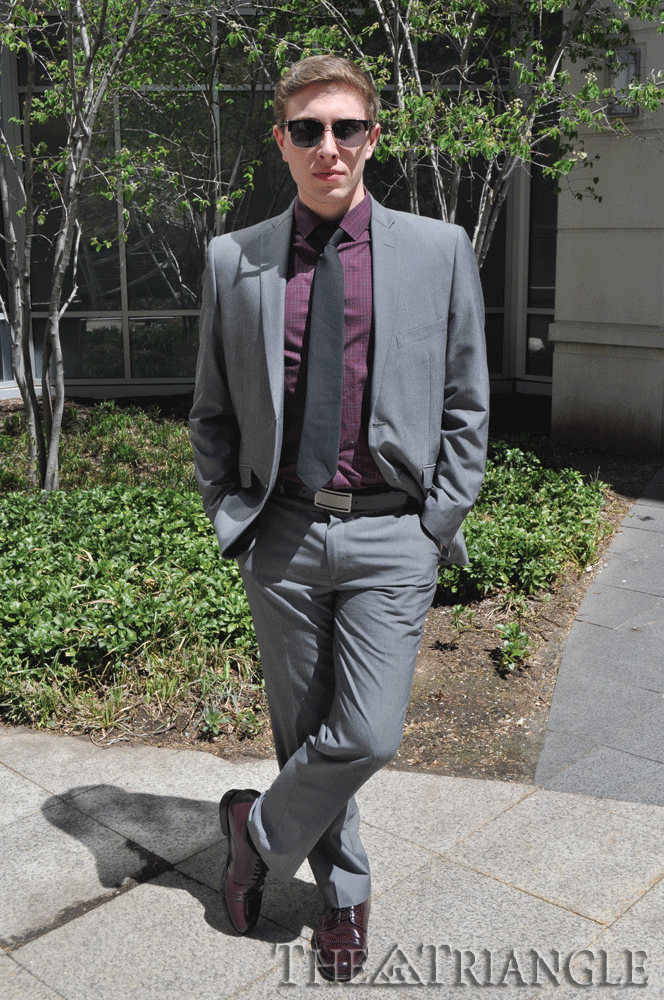 As every co-op cycle begins, a new round of students begins working as full-time employees at major-related companies. Often, many companies require a certain dress code for their employees to wear business casual attire. For women, this usually means an outfit that is classy, modest and neutrally colored. As for men, this usually means a suit, leather shoes, dress pants and a button-down shirt.
Therefore, some students may find it difficult to implement their own personal style and maintain a professional appeal while on co-op. We asked Jason Mobley, a sophomore majoring in marketing finance, about his personal style and how he incorporates his own style while working for Drexel University's Office of New Student and Family Programs.
Describe to us, what is your own personal style?
I would say that my style is modern, well cut with a tinge of prep. I don't like anything too out there but I'm always willing to try something new, and if it doesn't work for me I move on! That's what's great about fashion — it never stops evolving.
What are your favorite pieces in your closet?
1. Simple Lacoste Polos (Go with anything). Try buttoning them up the whole way! It gives a super modern/edgy look.
2. Hickey Freeman Newport Tortoise Shell Glasses
3. Levi's (511) Jeans (Every guy should have at least one pair of really nice fitting jeans.)
Where do you get your style inspiration from?
I really enjoy taking what high fashion does and making it more suitable for everyday use. So if I see something in a magazine (let's say in GQ) I usually say, "Well I could do that but maybe make this different." Less expensive options like H&M and Urban Outfitters allow you to create a style on a budget, but my favorite[s] are thrift stores. That's where you can find truly unique pieces.
Also, living on a college campus like Drexel and experiencing all of the innovative ways of dress inspire what I look for. I'm always looking around campus for things that I like the look of, and I know it when I see it.
What is your current co-op position, and where do you work?
I currently work as the new family events coordinator for Drexel University in the Office of New Student and Family Programs.
What are your job duties?
My job is similar to a large-scale events planner. Right now I am working on my publication, "The University Family Guide," which goes out to all the new families coming into Drexel with their students. I also plan the new family's portion of orientation including everything from the Dean's Dessert Reception to the DrexelNow Newsletter. In the spring we spend most of our time planning, then in summer the actual implementation happens where I work with roughly 100 staff members to make events come to life on a day-to-day basis.
Does your workplace have a dress code?
Yes, we have a business casual dress code.
What do you like to wear in the office?
Almost everything that I own is fitted, not tight. I don't like the idea of baggy, especially in a work environment where looking professional is absolutely key.
That thing that your dress shirt does when you tuck it in and you have a mile of cloth hanging out of the back of your shirt is because that shirt doesn't actually fit you.
How are you able to mix in your own personal style, and look professional at the same time?
I really enjoy playing around with my outfits. I believe that everything needs a form of balance. Especially for guys, I feel like we have to make sure we don't go "too far out there." So if I want to do an aqua-blue tie, I will pair it with something like a pair of black pants and vest or formal cardigan with a white shirt so that my tie is the most influential part of my outfit. Dressing in business attire can sometimes be difficult because you don't want your outfit to be distracting, so finding the right balance is always crucial. Accessory pieces like a nice watch or pair of glasses can go a long way in showing your personal style!
Do you have any tips for other men who may find it difficult to add a little bit of their own personal style and look professional in a work setting at the same time?
I'm so tired of guys being quantified as, "Oh you don't have to do anything; you're a guy." I believe that clothing should be something that shows who you are; it brings the inner you out. So just because you work in a corporate environment doesn't mean you can't step outside the box. I think it all comes back to the idea of balance; make sure you have an equal amount of work and play! I feel like most people don't recognize what their personal style is and I think my simple answer to that is it's the clothing that you put on, and you look in the mirror and go "Damn, I look good!"