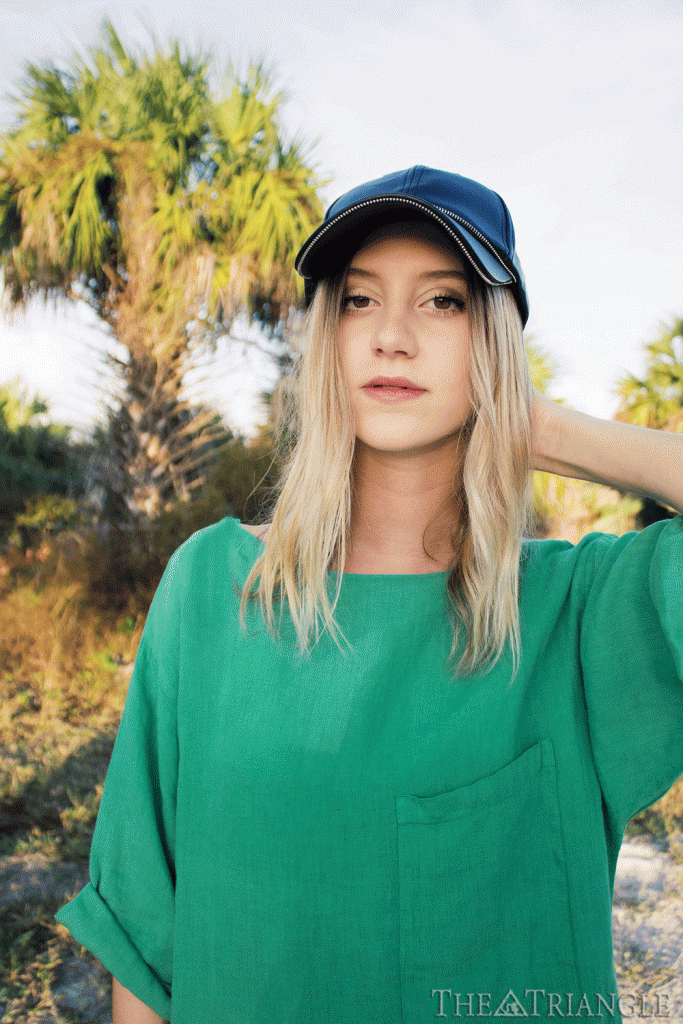 As the fashion blogging industry continues to grow rapidly, it can be extremely difficult for fashionistas to make their blogs stand out among the crowd. Jaclyn Fleurant, a Drexel University senior majoring in design and merchandising, knows exactly how to make her fashion blog, Her Wearabouts, unique. We had the chance to speak with Jaclyn about her personal style, her inspirations and the goals for her blog.
The Triangle: When did you first start your blog, and why?
Jaclyn Fleurant: Her Wearabouts came to life in September 2013, prior to starting my internship at Marc Jacobs. I had a later start date than most, so I used my time off to create a website to showcase my love for styling. I wanted my blog to be a visual reflection of my personal style and inspirations. I am also interested in photography, so it's fun to combine my two interests and share them with the world!
TT: Your blog focuses a lot on your personal style. Describe your own style in three words.
JF: Edgy, feminine and unexpected; basically a walking contradiction.
TT: Tell us what your wardrobe staples are?
JF: My black leather motorcycle jacket — I truly believe there is no such thing as too much leather — my chunky statement jewelry, my classic boyfriend tee and my pointed leather booties or flats. They still have to be pointed though!
TT: What about your favorite designers?
JF: Marc Jacobs and Miuccia Prada.
TT: What is your most and least favorite trend?
JF: My favorite trend of the moment is the sneaker Oxford; my least favorite trend is bucket hats. Even though my brother can rock one, I think it very much depends on the individual.
TT: What are three items you would never leave the house without?
JF: I would never leave my house without my leather jacket, Oliver Peoples sunglasses and cell phone. So millennial of me.
TT: Let's talk about your blog. Where do you pull your inspiration from in terms of how you want your blog to be?
JF: Marc Jacobs and Miuccia Prada inspire a lot of my styling choices. Blanc and Kinfolk magazines also heavily inspire me. I tend to gravitate more toward underrepresented perspectives of fashion and art, and I am always on the lookout for undiscovered talent, whether in the fashion or music world. I steer away from looking at other fashion blogs because I like to stay focused on my personal aesthetic. As far as how I want my blog to be, I don't have a set plan; I merely just intend for it to be a platform for self-expression.
TT: What are your main goals for your blog?
JF: I hope to inspire others to step outside of their comfort zone, but also remain true to themselves.
TT: Who would you say is your blog's target audience?
JF: My blog's target audience is around 17-26.
TT: What are the biggest challenges you have faced with your blog?
JF: I loved the process of designing my blog. I used to design my own layouts — back in the Myspace days — so I found the process enjoyable yet challenging. However, starting a blog is a lot of work. My biggest challenge was being confident with my branding choices and hoping that my vision successfully translated to my audience.
TT: There is a large number of fashion bloggers today. What makes your blog specifically stand out?
JF: I intentionally mix-and-match low and high-end items. Believe it or not, some of my favorite finds have been from H&M. The hope is for my audience to see that it is possible to look stylish in an affordable way.
Fleurant writes for Her Wearabouts at http://www.herwearabouts.com/