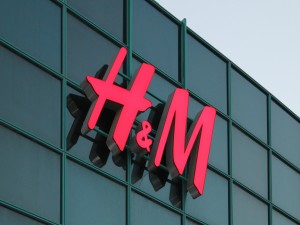 On the 2015 Billboard Music Awards red carpet, Olivier Rousteing, creative director of Balmain announced his collaboration with H&M. The 29-year-old designer posed alongside with his two model muses, Jourdan Dunn and Kendall Jenner, who both wearing pieces from the upcoming designer collaboration. Dunn wore a tight-fitted red wrap skit, a long-sleeved navy blue sheer top with rope detailing, black sheer tights, oversized silver metallic belt and black thigh-high boots. Meanwhile, Jenner wore an oversized navy blue velvet blazer with pearl detailing, black sheer tights and black thigh high boots.
It is no surprise that the Swedish fashion house appointed Rousteing as the latest designer for a collaboration collection. Since Rousteing's appointment at Balmain in 2011, he has dressed Beyonce, Kim Kardashian, Miley Cyrus, Taylor Swift and many other celebrities for the red carpet. He has also recruited Rihanna, Kanye West, Gigi Hadid and Kylie Jenner to star in Balmain's advertisements. In addition, he has also increased Balmain's social media presence from receiving 1.7 million Instagram followers.
H&M shared their excitement about the upcoming collection in a press release, expressing Rousteing for producing "a unique identity for the house, at once respectful of its couture DNA and rooted in the moment, but with a showbiz flair."
Since Rousteing's appointment at Balmain, he has transformed the Balmain look into highly crafted, couture detailed, army inspired and heavily embroidered pieces. Nicole Phelps, editor-in chief of Style.com, spoke with Rousteing about whether it would be a challenge to translate Balmain's signature look into H&M. Rousteing expressed how "it was a big challenge and a good challenge." He said, "I don't want to lose the craftsmanship, and I don't want to lose the richness and the glamour of the house. But I also want to talk to the people in the street, to different ages. I kept the glamour and richness, but we twisted it." Rousteing also believes that "when you do a collaboration with H&M, it's a big step in the fashion industry. It's a big achievement, professionally and also personally," he said.
H&M's creative advisor, Ann-Sofie Johansson chose Rousteing to be the next designer for a collaboration. She said, "Olivier is true to the Balmain DNA, but at the same time is designing for the new generation, and that is a mix between something couture-like, very glamorous, with a bit of street wear attitude. We believed it was a really interesting mix. He wants to dress both women and men and make them look confident, glamorous and elegant, and we stand for that."
The collection will include both women and menswear, and is set to be released Nov. 5 in over 250 international stores as well as online.