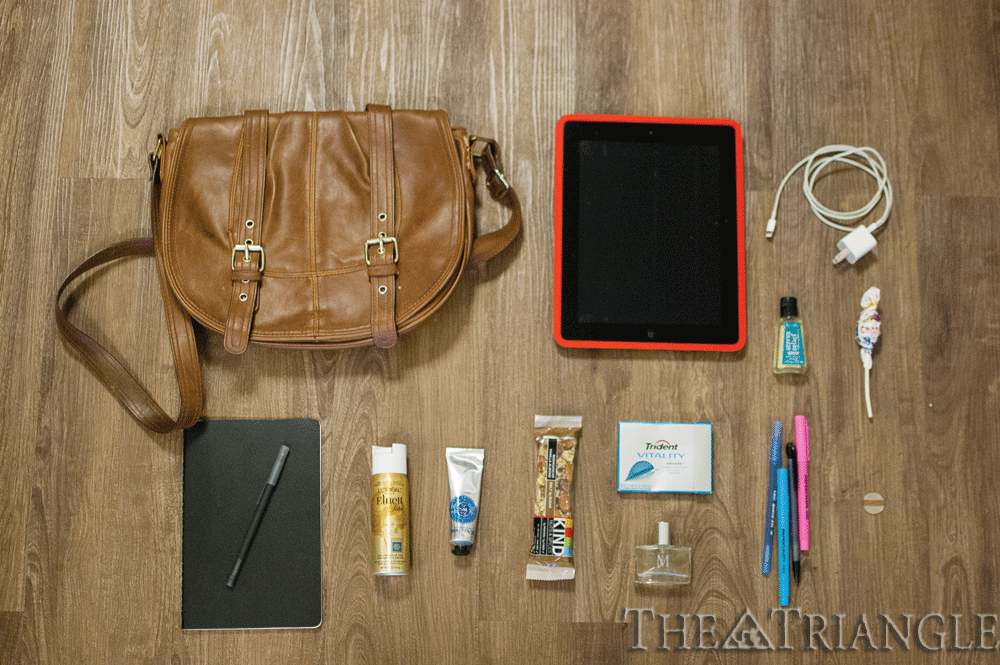 1. Ajay Raghavan's bag from H&M is an oldie but a goodie, and it has been by his side since fall 2010.
2. When he can get away with it, Raghavan said he prefers to use his iPad in class over his laptop.
3. Now that they've updated the iPhone, his charger serves a dual purpose and can charge both of his devices when he's on the go.
4. When the situation calls for it, Raghavan will use this black notebook for more traditional note-taking methods. It also helps that it's slim and lightweight.
5. "You can't leave your house without hairspray," Raghavan said, and L'Oreal Elnett has a nice hold without getting too crunchy.
6. He likes to splurge on luxurious personal care products when he can, like this L'Occitane hand cream.
7. A Madagascar Vanilla Almond KIND bar is stowed away for when he is in need of a midday energy boost …
8. … and a stick of peppermint gum keeps his breath from getting too offensive.
9. "I really like wearing cologne or perfume, I don't really care which," Raghavan said. "I like bringing it around in case I forget to spray some in the morning."
10. Raghavan prefers this hand sanitizer because it smells more fragrant rather than antiseptic.
11. "If I'm low on energy or … see a cute guy, I need a lollipop," Raghavan said in defense of the Blo-Pop stowed in his bag's pocket.
12. If that guy is creepy, Raghavan said, he can wield his bundle of pens in a manner of self-defense …
13. … and take his SEPTA token to make a quick getaway. Who knew this engineer was so resourceful?