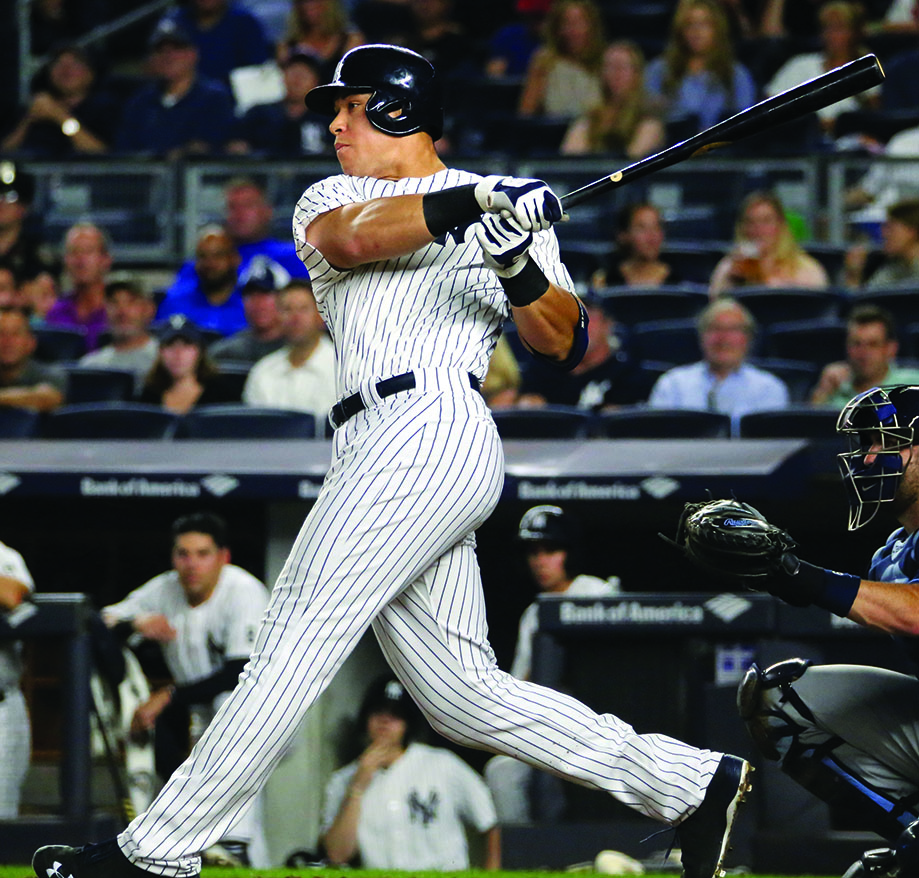 The evil empire has returned. In a season where most experts predicted that they might barely contend for a wild card spot, the New York Yankees are off to one of the best starts by any Major League Baseball team this season.
With their May 24 game postponed due to rain, New York currently sits in first place in the American League East, boasting a 27-17 record and a two-and-a-half-game lead over the Baltimore Orioles.
Much like the championship teams of the past, the Bronx Bombers have done most of their damage this season with their bats. Despite their stud young catcher Gary Sanchez, who homered 20 times in just 53 games last season, missing the first month of the season, the lineup has been on a tear. As of now, the Yankees have hit the second most home runs in the Majors (69), trailing only the Washington Nationals (70).
Aaron Judge went from looking like a late career Adam Dunn last season to a young Mark McGwire this season. While many expected Judge to take a step forward this year, I don't think anyone could have predicted that he would be tied, at this point in the season, with Mike Trout for the most home runs in Major League Baseball (15). In person, the 6-foot-7-inch, 282 pound right field appears to be a the real life version of Paul Bunyan.
Judge always had power, but in the 84 MLB at bats he had in 2016, the tall righty struck out in half of them. What has changed for Judge is his ability to consistently put the ball in play. This year, in 149 at bats, Judge has been retired on strikes just 51 times, which is a significant improvement from last summer. His statline not only makes him the clear favorite for rookie of the year, but you could also argue he's been good enough early on to be the League's MVP with a .315 batting average, 15 homers, 30 RBIs, .420 OBP and .678 SLG.
However, Judge is not the only pleasant surprise for the Yankees' offense thus far. Outfielder Brett Gardner has transformed, seemingly overnight, from a slap-hitting base stealer into a middle of the lineup slugger. Gardner is having his finest season as a Major Leaguer, batting .280 with nine homers and 20 RBI's in 40 games.
Second baseman Starlin Castro has been a spark plug in the middle of the lineup. Not only is Castro leading the team in hits, 59, and second in average, .328, but he has also found his power stroke, launching seven homers thus far.
Outfielder Aaron Hicks has also exceeded expectations. In just 34 games, Hicks has drilled eight dingers, which is three shy of his career high.
Matt Holliday has been a solid addition at the designated hitter spot. In 41 games, the veteran righty has eight homers, a .280 average, and 28 RBIs.
Shortstop Didi Gregorius has returned from injury and picked up right where he left off last season. Coming off of a career year in which he homered 20 times, Gregorius is now leading the Yankees with a .330 batting average.
However, as great as the offense has been this season, the pitching staff could be what costs this year's Yankees team a shot at the title. New York's ace Masahiro Tanaka is having, by far, the worst year of his MLB career. Tanaka has been slapped around his past few starts as his ERA has ballooned to 6.56.
Luis Severino and Michael Pineda have been solid, but with no clear ace to take the mound in a crucial game, there is no telling who the Yankees will turn to for a big spot in the postseason.
Obviously, it's very early on in the season. The Yankees have 118 games to go until they reach the finish line and a lot can happen between now and October. However, if this early season run the Yankees are on indicates anything, it's the fact that the youth movement in the Bronx has a bright future. Add a few young arms to the mix,and there is no telling how good this team can be in a few years.