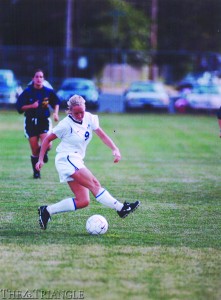 The late Laura Meikle Koch dribbles the ball down the field during a home game on the Vidas grass. The top scorer passed away of lung cancer in 2008 at the young age of 28.
Updated: Oct. 19, 3:41 p.m.
Did you ever have that friend in elementary school that would always stick up for you when you got bullied around? Do you have that friend here at college that gives you an honest opinion of how you're playing during that last practice? It's that friend you can always count on — the friend who, whenever they walked into the room, made it 10 times brighter.
Laura Meikle Koch was that friend to an immense amount of students here at Drexel. Meikle Koch, a valuable member of the Drexel women's soccer team, passed away June 2008 at age 28 from her battle with lung cancer. One of the strongest remembrances of her at the University is the passion and determination she carried onto the soccer field. Her authentic personality brought the women's team together during her four years here from 1998 to 2001.
The all-around player was a four-year letter winner for women's soccer and graduated as the school's career leader in goals and points. To this day, she is still ranked among the top five all-time in those categories, according to drexeldragons.com.
Drexel University Athletics will announce its dedication to Meikle Koch in renovating the women's locker room into the Laura Meikle Koch Locker Room Oct. 14. This dedication was made possible by generous donations to the Laura Meikle Koch Locker Room Campaign.
The Dragons of the women's soccer team will face off against James Madison that evening for another conference battle. Prior to the match, a ceremony honoring the dedication of the new locker room and the remembrance of Meikle Koch will begin at 5:30 p.m. in the Kopp Lounge. Family members, former teammates and the current women's soccer team will all be in attendance for the ceremony. Speakers will include Ray Goon, women's head soccer coach and former coach of Meikle Koch, in addition to Laura's father.
As a former coach and mentor to Laura, Goon has shared his most cherished memories with the young woman as a player and an overall genuine person. It would have been a pleasure to have spent the time with Meikle Koch during her years at Drexel.
"Whenever La's name is mentioned, it evokes a lot of great memories of when she played for us," Goon said. "To have a physical entity that bears her name will definitely add to the frequency of those memories."
Although recruited as a forward, Goon said the team often utilized her as a defender based on their tactical approaches to an opponent or injuries to their player personnel. She was the true epitome of what any coach would call a team player. This devoted athlete was always up for a challenge and willing to do whatever was needed for the team to triumph.
"You would rarely know if she was tired, injured or frustrated because she loved to compete and had an upbeat personality," Goon said.
During her time playing with the Dragons, Meikle Koch wore the No. 9 on the back of her uniform. Laura's teammate and best friend, Kelly (Cross) Homick, developed the "Number 9" logo during her courageous battle with lung cancer. When she passed away in 2008, those closest to her put together the phrase, "Embodies courage, determination, passion and selflessness in pursuit of giving your best," to signify what the logo represents. Goon said that this phrase is what he and his coaching staff use when determining their LMK award recipient each year.
Goon is considered one of the lucky ones to have experienced the shining presence of Meikle Koch. However, our current Drexel women's soccer team, they only have their ears to hear about the memories of this passionate player. Captain Jourdan Halasz said that this ceremony honoring Meikle Koch would definitely inspire her and her teammates to work even harder during the Oct. 14 game.
"If each of us can embody the courage, determination and selflessness she had, the result will be positive," Halasz said.
With all the amazing things she and her teammates have heard about Meikle Koch, it's a shame they never got a chance to meet her. Yet the characteristics she encompassed were those that every Dragon could look up to, not just the Drexel soccer teams.
"I think all athletes can consider her a role model because of what she was able to accomplish on the field during her time here and because of the impact she had on people off the field as well," Halasz said.
The four years each player has here at Drexel go by very quickly, Halasz said. Each year the team says goodbye to their seniors and welcomes the new players coming in. There are never-ending changes within the program, yet these remembrances of Meikle Koch will never change, becoming nothing less than the esteemed significance she represents.
"The renovations and dedication of the locker room will remind us to cherish every moment we step on the field," Halasz said.