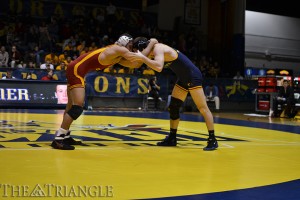 This fall, the Drexel men's wrestling team will begin competition in the Eastern Intercollegiate Wrestling Association, and head coach Matt Azevedo thinks a batch of incoming recruits will be able to contribute.
During the Dragons' first year in the EIWA, they will be facing an elevated level of competition, and they will look to a number of young players to help the team against high caliber schools.
Azevedo has four in mind who he said he believes will be able to contribute immediately.
"Zach Fuentes, Johnny Dutrow, Austin Rose and Alex DeCiantis are four individuals that we are expecting to see a lot out of," Azevedo, who will be entering his third full season with the team, said. "We think this group has the potential to earn several All-American honors and will play a big part in our team's future success."
Fuentes, from Norristown, Pa., will step into the 125-pound weight class and challenge Cornell University sophomore Nahshon Garrett, who finished third at the NCAA Championships. Fuentes accrued a 181-36 record during his high school career. He finished first at District 1 Championships and the Southeast Regional Championships, and second in the Pennsylvania Interscholastic Athletic Association Championships his senior year.
Dutrow, from Council Rock High School in Newtown, Pa., enters the 141-pound weight class, another class dominated by Cornell. The Big Red's Mike Nevinger, who finished fifth at the NCAA Championships, will return as a senior after going 32-9 last year, leaving Dutrow with his work cut out for him.
Rose, who went 19-2 in his senior year at Central Dauphin High School, will be wrestling in the 157-pound weight class. This is a class that was dominated by Drexel's juniors and seniors in 2013, which could potentially limit his ability to move up during his first year as a Dragon.
And DeCiantis, from western Pennsylvania's North Allegheny High School, will come into the 184-pound weight class, another hard class to break into for freshman.
But Avezedo still has a lot of confidence in his young wrestlers next year. He will also depend on improvement from a number of his returning wrestlers, including Brandon Palik, a senior who Avezedo expects to be the Dragons' best wrestler.
"He is a two-time NCAA qualifier, and we are looking for him to be an All-American next year," he said of Palik, who went 25-4 this year.
But no team can rely solely on one top performing wrestler.
"Jamie Callender has a ton of potential, but has yet to complete a full season due to injury. He has the ability to be an All-American as well," Azevedo said.
"Kevin Devoy is our top returning red-shirt.  He had a very successful red-shirt freshman year, placing at three open tournaments and winning the National Collegiate Open. He will wrestle at either 125 or 133 pounds and will be ready to compete against the best in the country."
Another red-shirted wrestler Azevedo expects big things from is Matt Cimato. He will wrestle in the 141-pound class, and his head coach said he could make some noise on the national scene.
In the top-caliber wrestling organization of the EIWA, Drexel will be facing the daunting task of entering a new and more competitive league. With an influx of incoming talent and the retention of their best wrestler, the Dragons appear to be in line for a season of improvement this fall.
However, Azevedo wants to be realistic.
"Right now I think we are about the middle of the pack in the EIWA. We will be very young next year and that could be a good thing or a bad thing," he said. "My goal every year is to get as many guys to the NCAA Tournament as possible. The more we [qualify], the better we do in the EIWA Championships."
Yet resigning himself to the weight of a new conference also is not in the cards for Azevedo and the Dragons. He expects his young men to push themselves to reach his lofty goal for the upcoming season.
"My goal will be to place in the top five [in] the conference," Avezedo said. "That will be very challenging, but we need to challenge ourselves."
Expectations, concrete predictions and assessments aside, Azevedo is simply ready for the season to start and to see how his team of newcomers and returning wrestlers alike will respond to the challenge.
"I'm definitely excited to get our team wrestling on a big stage to prove what we are capable of and show where our program is going," he said. "We have been working very hard this offseason and we are looking forward to putting the work to use next season."