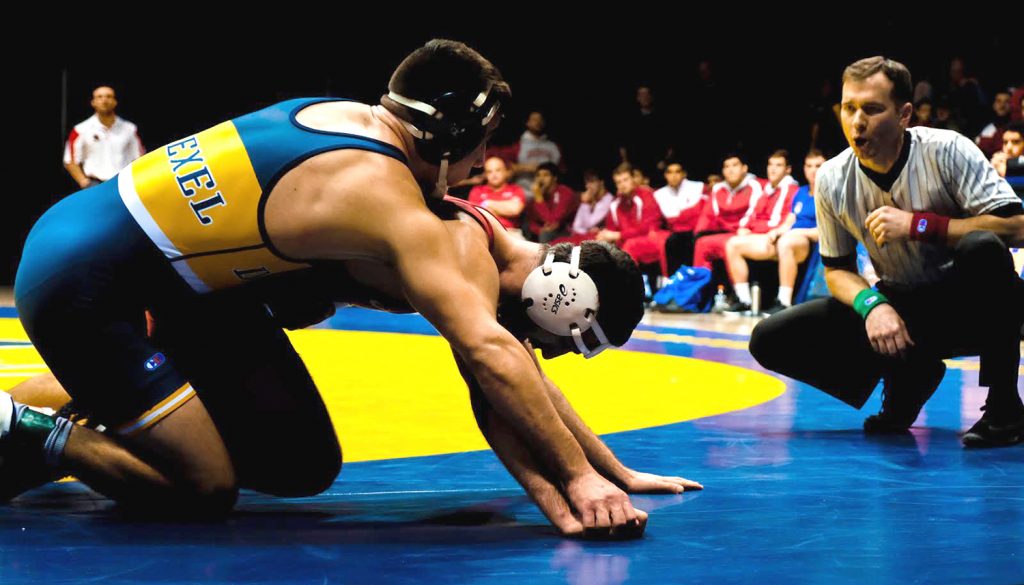 On one of the hypest nights of the wrestling season, Spirit Night, the Drexel University wrestling team faced a formidable foe, Cornell University. Cornell is ranked No. 10, and beating them would be a difficult feat. However, Drexel came up short and lost, 22-13.
Drexel got off to a great start with a 13-5 major decision by redshirt sophomore Ebed Jarrell over Adam Santoro at 165 pounds. This gave Drexel a great advantage at a key weight class. This lead did not last, as Cornell won in the next four weight classes. No.18 Brandon Womack edged redshirt senior Austin Rose, 2-0, at the 174 pound weight class. No. 11 Max Dean then beat redshirt senior Alex DeCiantis 8-3 at 184 pounds. Redshirt junior Stephen Loiseau had the biggest challenge of the night, facing national title-contender No. 3 Ben Darmstadt. Loiseau gave a good fight, but in the end, Darmstadt came away with a 6-4 decision. In the heavyweight class, No. 25 Jeramy Sweany of Cornell faced the Dragon's Joshua Murphy, but Cornell came up with the win with a 6-1 decision.
Redshirt senior Zach Fuentes and freshman Austin DeSanto both gave life to the Dragons with wins in the 125 and 133 pound weight classes. Fuentes shut out Noah Baughman 6-0 and DeSanto narrowly edged Chaz Taylor 2-1. Graduate student Garett Hammond also got a win for Drexel with a 7-4 decision over Kyle Simaz. However, these would be the only wins that Drexel would get, as Cornell came back with wins in the 141 and 149 pound weight class. Yianni Diakomihalis outlasted Drexel's freshman Julian Flores and No. 32 Will Koll from Cornell shut down freshman Trevor Elfvin 10-0 to close out the match.
Drexel had another chance to redeem themselves from a loss on their home court. This time, it as against American University in Washington, D.C. This time, Drexel came out on top with a 25-16 win.
Hammond started things off with a 6-3 decision over Eric Hong at 157 pounds. Jarrell also got Drexel on the board with 12-4 major decision over Anthony Wokasch. Rose further added to the lead with a 4-2 decision over Michel Eckhart and DeCiantis pinned Connor Allshouse with five seconds remaining in the first round. To add even more to their lead, Drexel received a forfeit from American at 197 pounds. The Dragons finally gave up losses to American, with losses in the heavyweight class and at 125 pounds. This led up to the featured match of the night at 133 pounds with No. 4 Austin DeSanto and No. Josh Terao facing off. The match did not disappoint, as it went into overtime and DeSanto took down Terao to win it 12-10.
Drexel will close out their regular season with a match against the University of Pennsylvania Feb. 17 at the Daskalakis Athletic Center to see who wins the Cheesesteak Trophy. Drexel's seniors will also be honored at this meet.