With all of the pressures of beginning his first season at a new school, Drexel's early schedule is not doing new head wrestling coach Matt Azevedo any favors.
Drexel wrestling will begin its new season, and the first under Azevedo, this weekend, taking on Franklin & Marshall College Nov. 12 at 7 p.m. at the DAC followed by a Nov. 13 matinee with the nationally ranked University of Pittsburgh at 1 p.m., also at the DAC.
"We are all very excited to get this season underway," Azevedo, a former standout wrestler at Arizona State University and Iowa State University, said. "The guys have been working very hard. I am proud of their effort so far, but we still have a lot of work ahead of us."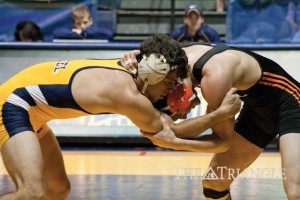 Drexel University junior Joseph Booth graples with an opposing wrestler. Booth lead the wrestling team in his sophmore year with a .69 winning percentage.
Last season the Dragons finished 7-16 and just 1-5 in the Colonial Athletic Association. This is something Azevedo would like to improve upon starting this weekend, his first at the helm of the team during the regular season in the post-Jack Childs era.
Both Franklin & Marshall and Pitt bring their own strengths, and Azevedo is preparing his team accordingly.
"Both of these teams are well coached and pose different obstacles," Azevedo said. "We have to be aggressive and stay aggressive if we want to win this weekend. My staff and I have been watching a lot of video, and I feel this weekend will be a good test for us, and we will get an early look at what kind of team we are going to be."
The team has a bad taste in their mouths from last year's 41-3 thumping from the Panthers of Pitt, and they are seeking revenge Nov. 13.
"Pitt is a big match for us," Azevedo said. "We will be tested at every weight class, especially at the upper weights. This match will be a good indicator of where our wrestlers stand on the national level."
Opening the season on your home mat is always a great way to get a leg up on the competition.
"It's exciting to open the season in the DAC at home," Azevedo said. "We expect to have a lot of fans in attendance, and we expect to put on a good show."
The Dragons hope to put on a good show for every match held at the DAC or on the road this year. They will take on the University of Virginia, Army, Brown University and Rutgers University for their out-of-conference schedule. During CAA play they will face Hofstra University, Boston University, Rider University and George Mason University.
"There are a lot of nationally ranked wrestlers in the CAA, and I expect it to be very competitive," Azevedo said.
Drexel will also compete in several invitational and national tournaments this season, including the Cornell Body Bar, the Las Vegas Invitational, the Campbell Duals, the Lock Haven Invitational, the CAA Duals and the Virginia Duals.
"We will always seek out the best competition in the nation because that's how you get better," Azevedo said. "It's important that our guys are prepared for the conference and the national tournament."
All of these events lead up to the main goal, the NCAA Tournament.
"Everyone needs to be working hard to get to the national tournament," Azevedo said. "Everything is practice until we get to the conference tournament, where we qualify for NCAAs."
Taking over for a wrestling legend in Childs, Azevedo hopes to continue Drexel wrestling's tradition of hard work and stellar performance this season and in years to come. For Azevedo and the entire Drexel wrestling squad, it all starts Nov. 12.