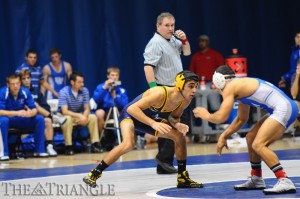 In his first year as head coach of the Drexel Wrestling team, Matt Azevedo has found mixed results. After splitting their opening weekend with one win and one loss, the Dragons looked ahead to the Cornell Body Bar in Ithaca, N.Y. Azevedo is pleased with the success the team has had, but he stresses the importance of building each match.
"We have had some success early in this season," Azevedo said. "We are showing a lot of fight, and we're winning some matches. I hope to see our guys build on what we have accomplished so far, and I hope we can start to win the close matches."
The Dragons finished fifth out of 12 schools in what was a successful tournament. Heavyweight redshirt-senior Kyle Frey and 165-pound junior captain Joe Booth both took home titles in their respective weight classes.
Frey pinned his first opponent midway through the second period, followed by a 3-2 decision in his second match over host Cornell's Stryker Lane. In the semifinals against Bloomsburg's Zac Walsh, Frey earned a convincing 7-2 decision. In the final match, Frey defeated Nick Gwaizdowski of Binghamton, earning his first heavyweight title at the Body Bar.
Booth began his day with a 4-1 decision and an impressive 9-3 decision in his first and second matches over Dylan Caprio of Lock Haven and Alexander Smith of Army, respectively. In the semifinals, Booth blanked Kent's Ross Tice in an 8-0 major decision. He then went on to beat Buffalo's Mark Lewandowski 3-1 in the finals to win the title.
After splitting his matches, 141-pound junior Frank Cimato placed fourth in his class, while redshirt-sophomore Brandon Palik earned sixth place in the 197-pound weight class — capping off Drexel's impressive day on the mat.
Both Frey and Booth remain undefeated this season with 6-0 records. They look to keep their winning streak alive at the Las Vegas Invitational in Las Vegas.
"Booth and Frey are wrestling very well right now," Azevedo said. "They are both 6-0 and need to keep it going this weekend. The Cliff Keen/Las Vegas Invitational will be their chance to shine on the national scene."