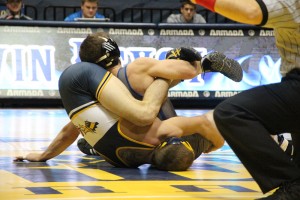 Holiday season can mean many things for Drexel University students. With winter break comes an increase in family time, home cooked meals, joy and outstretched stomachs. Holiday season may also mean the end of classes for the calendar year, but it doesn't mean the Drexel wrestling team took a break from their season.
During the winter break the mat men went west to Illinois for the Windy City Duals. Then they came back home to the Daskalakis Athletic Center where they took on the U.S. Naval Academy. The Dragons ended wrestling in December, in The Grapple of the Garden, which was held in New York.
Over this stretch the Dragons were able to post a record of 3-3; their overall record is still under .500 at 3-4.
The mat men began December in a big way, with a shut-out win against Davidson College in the first match of the Windy City Classic by a score of 39-0. Tanner Shoap led the Dragons in the first match between the 125-pound division. His opponent forfeited, giving the Dragons a 6-0 lead. Kevin Devoy Jr. followed Shoap and won with a 9-2 decision, giving the Dragons three more points.
Franco Ferraina and Mathew Cimato both won their matches in the 141 and 149 weight classes, respectively. Noel Blanco made a 14-4 major decision to win the 157-pound weight class. Following these strong performances came strong executions by first year starters Nick Elmer and Stephen Loiseau, who both put forth efforts to win their matches.
Alex DeCiantis also had a masterful performance, pinning his man within a minute. Following DeCiantis, freshman Joshua Murphy and Joey Goodhart both ended the match with wins in the 197 and 285 pound divisions to give the Dragons an overall score of 39 for the match. Davidson, unable to win a match, ended with their score at zero.
Unfortunately for the Dragons the next two matches in the Windy City Classic would not go as smoothly. Drexel would lose to Northwestern University 28-15, and lose to Eastern Michigan University 22-19. Kevin Devoy Jr. won all of his matches, which put him at 3-0 in the Windy City Classic and 8-0 on the season.
Coming back home, the Dragons would face and defeat Navy Dec. 13. Tanner Shoap began the match in the 125-pound weight class, winning 16-0, by way of technical fall. Kevin Devoy Jr. was also able to win by fall, downing his man quickly, just 57 seconds into the match. Devoy Jr. would increase his personal record to 9-0 on the season.
The Dragons were on top of Navy, 11-0, with two quick match wins. The 140-pound division would not let down the Dragons either, as both David Pearce (141) and Mathew Cimato (149) won their matches, extending the lead for Drexel to 18-0. Noel Blanco would follow these strong matches with a strong match of his own, finding a way to win a 4-1 decision and increasing the score to 21-0.
As the second half went under way, Navy began making a pushback. Nick Elmer wrestling in the 165-pound weight class would lose his match 7-1, against a tough ranked opponent in Peyton Walsh. Following Elmer, Stephen Loiseau lost his match in a major decision of 12-3. Alex DeCiantis attempted to stop the losing skid with a hard fought match. DeCiantis was tied with his opponent 3-3, but lost by way of a fall.
The score for Navy was quickly climbing, what was once a 21-0 lead, now became a 21-13 lead. Joshua Murphy was up next, he had a chance to stop Navy from a comeback. However, he lost 4-3 despite a valiant comeback after falling down 3-1. The last match was in the 285-pound weight class, Joey Goodhart needed to avoid a pin, or a technical fall in order to secure a Dragon win. Goodhart was able to score an escape and a take down, winning his match 4-3 and securing a 24-16 victory for the Dragons.
This was a big win for the Dragons because it brought their record to 2-3, but more importantly it started the Dragons off 1-0 in the Eastern Intercollegiate Wrestling Association. To close out 2014, the Dragons went to New York where they faced University of Northern Iowa and George Mason University.
The Dragons would lose their first match against Northern Iowa 24-14, but secured a 25-11 victory over George Mason. Kevin Devoy Jr. would remain perfect on the season going for two more victories, bringing him to 11-0 on the season, and ending his 2014 perfectly.
To open up 2015, the Dragons traveled to Chattanooga, Tennessee where they wrestled in the Southern Scuffle. Kevin Devoy Jr. and Mathew Cimato were both able to advance to the championship round, held the next day, Jan. 2. Tanner Shoap, David Pearce and Noel Blanco would be continuing in the consolation bracket. On the second day of competition, Kevin Devoy Jr. placed fifth in the 133-pound division. He would lose his first match of the season in the quarter finals and fight from in consolation bracket to take fifth place.
The Dragons showed toughness in Chattanooga, and they will need to continue to be tough as they travel up to Pittsburgh for a match Jan. 11, against Bloomsburg University and Pittsburgh University in the Pitt Duals.