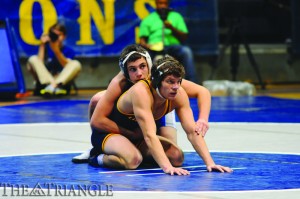 After a row of tough losses, the Drexel University wrestling squad looks to right the ship with three big upcoming matches as the Dragons  visit Boston University and Brown University Feb. 4 and then welcome Rider University to the Daskalakis Athletic Center for a rematch.
Drexel has primarily struggled in dual meets so far this season, although its roster does boast several nationally ranked wrestlers in their respected weight classes. However, at 4-8 overall and 0-3 in the Colonial Athletic Association, the team is not where it wants to be.
"We are struggling in dual meets right because we are not winning close matches," head coach Matt Azevedo said. "If we start winning close matches, we will be able to go with any team in the nation."
The Dragons will begin their doubleheader Feb. 4 at 11 a.m. with an out-of-conference match versus Brown. The Bears are currently 5-4 and face a very tough Ivy League schedule, but they will compete three more times before the Drexel match.
After Brown, the Dragons will be back on the bus touring New England en route to Boston University, where they will have to remain mentally tough for the second match of this travel-laden doubleheader with BU at 3 p.m. Boston is 7-3 and is currently on a bit of a hot streak.
"Wrestling multiple matches in a day is very common in wrestling," Azevedo said. "Sometimes our guys will wrestle as many as five in a day."
It will be up to both the coaching staff and wrestlers to remain poised and focused all day for two crucial and very winnable matches.
"I feel very confident going into this weekend and next week," Azevedo continued. "I like our chances against Boston and Brown."
On Feb. 6 at 7 p.m., Drexel will grapple with the Broncs from Rider in a rematch of an exciting bout held earlier in the season.
"Rider will be a tough dual. We lost a one-point match to them earlier in the year," Azevedo said.
The match Azevedo is referring to was part of the Virginia Duals, where Rider escaped with a 19-18 victory. Drexel held a two-point advantage over Rider with only four matches to go, but they could not shut the door on the Broncs and went on to lose a heartbreaker. Rider currently stands at 6-7, and the Dragons are seeking revenge against this CAA foe.
The matchup with Rider will be at home, which should give the Dragons an added boost.
"I like wrestling at home," Azevedo said. "It has its advantages, and I think our guys wrestle better at home."
CAA victories are incredibly important for Drexel right now, and they will have an opportunity to get back in the hunt with matches against Boston and Rider. The competition in the CAA has really increased in recent years, and it is shaping up to be a powerhouse conference. There are currently three teams in the CAA ranked in the top 25 nationally.
"The CAA is definitely an up-and-coming conference," Azevedo said. "There have been a lot of coaching changes in the conference, and we have seen a rise in the competition level."
After dropping two CAA matches at the CAA Duals and then falling to Army at home, Drexel is in desperate need of a few wins.
All of the pieces are in place. The Dragons must now execute.