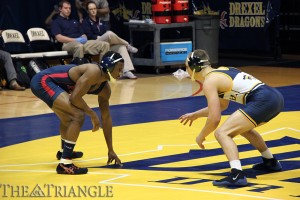 Nothing that happened prior to this point in the Drexel wrestling season matters anymore. Every wrestler has a clean slate, and they are all looking to paint their own pictures of success. The Dragons and the rest of the Eastern Intercollegiate Wrestling Association are traveling to the University of Pennsylvania for the conference tournament March 8-9, and everyone will be fighting for a place in the NCAA Championships in Oklahoma City at the end of the month.
For head coach Matt Azevedo and his mat men, this is everything they have been working for. The Dragons went through their growing pains as individuals and as a team during the season, but they have all certainly grown up. After experiencing the ups and downs, Azevedo has high expectations for his guys when they travel down 33rd Street March 8-9.
Drexel has an eye on a few weight classes where they expect to make a splash, and 197 pounds is the first weight class to pop out on paper. Senior Brandon Palik seems to be a sure-lock to qualify for the NCAA Championships for the third time, but he has his sights set on something bigger than simply qualifying: Palik wants to win EIWAs.
"I have the expectation to win," Palik mentioned after Senior Night at the DAC Feb. 23. "I should be seeded No. 1 going in there, and I just have to continue to have the expectation to win. That's really all there is to it. Just keep doing what I've been doing all year, all my life. I've been doing this long enough to know what I need to do, and nothing's going to change."
How does a wrestler who is ranked in the top 20 in the country at his weight class stay focused and avoid a letdown when he has been so dominant on the mat? Palik knows the recipe to stay on top of his game.
"You just have to stay humble," he said. "You can't think that there's no one out there who can beat you. You have to always realize there's someone out there who will beat you, and you just have to stay confident and believe in yourself. You can't go out there afraid to lose. You have to wrestle to win; you can't wrestle to not lose."
"Palik's expectation is to win the EIWA," Azevedo said. "That's our expectation as well. He knows, and we know that's his goal, and it's what his goal has been since we made the move to the EIWA. He was conference champ last year at the [Colonial Athletic Association], and we don't expect anything different.
"He just has to wrestle the way he has been wrestling, and I think he will be at the top of the podium."
Another senior at a different weight class jumps out as well, and that is Austin Sommer at 157 pounds. Sommer has come close to qualifying for the NCAA tournament in the past but is still looking to make it over the hump. His head coach said earlier in the season that he thinks Sommer has had to wrestle the toughest schedule of anyone on the team. The season of constant challenges on the mat has now prepared Sommer for the stiff competition he will face in the conference tournament.
Kevin Matyas rounds out Drexel's trio of seniors looking to make some noise in their final go-around. Matyas has been a tough out for just about every opponent this season, as he always keeps his matches within reach. He hopes to have some takedowns fall his way this time as he looks to lock up an NCAA spot at 174 pounds.
"Nothing else that happens matters," Matyas said about his mindset heading into EIWAs. "Just wrestle hard. There are upsets every year, so why not me this time?"
The Dragons' team is full of talented freshmen, but none have had as much success and consistency in their first seasons as Kevin Devoy Jr. Devoy began the season wrestling as the team's 125-pounder, but his midseason move to 133 pounds gave him a new level of energy and strength out on the mat.
He has thrived since making the move, and Azevedo said he is excited to see what Devoy can do against the conference's best competitors.
For others, the two-week break between their season finale against Penn Feb. 22 and the start of EIWAs has been welcomed with open arms. Freshman Alex DeCiantis and junior Bryan Sternlieb could be threats to make runs at 184 pounds, as both are nursing injuries back to full strength. DeCiantis wrestled in the team's final two matches, coming back from a leg injury, while Sternlieb missed those final two with a nagging shoulder injury.
Drexel's season comes down to one weekend at Penn. It is now or never, especially for the three seniors. Azevedo is proud of the effort and determination his team has wrestled with throughout the season, and now is the time to put it to the test with bids to the NCAA Championships on the line.