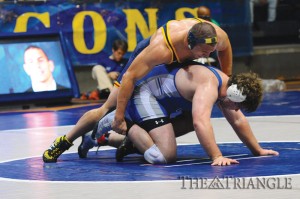 Drexel University has had a tough couple of matches against two Colonial Athletic Association foes this week, losing two matches at the CAA Duals and then falling to Army at home.
The CAA Duals were held Jan. 21 in Fairfax, Va., and had the Dragons pitted against Binghamton University and Old Dominion University.
"Right now we are struggling in dual meets," head coach Matt Azevedo said. "I would say that our team is a better tournament team than a dual team."
Drexel had its troubles with 20th-ranked Binghamton, losing 36-6. Binghamton beat the Dragons early and often, taking the first two matches at 125 and 133 pounds, jumping out to a 12-0 lead. After losing at 149 pounds, junior Austin Sommer got Drexel on the board, winning his match 15-2 at 157 pounds. Junior co-captain Joe Booth, 18th-ranked wrestler at 165 pounds, kept his perfect CAA record intact as he took his match for the Dragons. Unfortunately, the Bearcats silenced the Dragons for the rest of the match, winning out over them.
The Dragons fared a bit better later in the day when they took on No. 25 Old Dominion University. Drexel put forth a good showing but still fell to the Monarchs 22-12.
Much like in the Binghamton match, ODU jumped out early on the Dragons, winning at 125 and 133 pounds. Junior Frank Cimato put Drexel on the board after defeating ODU's Jacob Kingett at 141 pounds. Booth was the star for the Dragons once again as he shut out ODU's Tristan Warren 3-0 at 165 pounds. Drexel was able to tack on some victories late with No. 20 Brandon Palik wining at 197 pounds and Kyle Frey winning his bout in the heavyweight division. These final victories turned out to be too little, too late, as Old Dominion had already put the match out of reach.
"It's very important for us to win dual meets," Azevedo said. "But these matches are all practice for the postseason."
The Dragons continued their skid when they welcomed Army to the DAC Jan. 24. Drexel honored all military personnel at halftime of the match.
Shane Fenningham got Drexel off to a hot start, winning his bout 5-3 at 149 pounds. The Dragons were unable to build off of that as they went on to drop the next four matches at 157, 165, 174 and 184 pounds, respectively. The Dragons' big boys continued to compete at a high level as Palik defeated Army's Derek Stanley 5-3 at 197 pounds, and Frey took down Army heavyweight Daniel Mills. The Dragons then went on to lose at 125 and 133 pounds before ending the match with a victory at 141 pounds when Cimato beat the Black Knights' Casey Smith 13-7. Drexel's four victories weren't enough as they fell to Army 26-12.
"In the matches we won, we wrestled well but were unable to score bonus points," Azevedo said. "That has been a problem for us all year."
Drexel will have a long break to right the ship before they travel to Boston University to resume CAA competition Feb. 4.
The Dragons are not short of talent, but they have been hampered this season with injuries, and in many cases they have shown their youth. Azevedo is not making any excuses, though.
"Our guys need to continue to work hard and improve on their mistakes," Azevedo said. "We still have a lot of time to prepare for the CAA Championships."