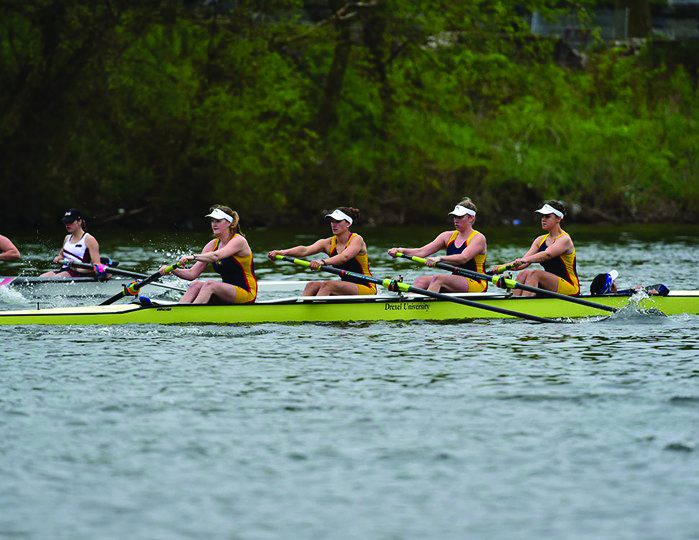 The Drexel University men's and women's crew teams competed this past weekend in their last competition before the Dad Vail Regatta.
The men's team competed in Leonia, New Jersey April 29. In the third varsity eight, they defeated Columbia University's lightweight crew.
The third varsity eight team finished with a time of 5:46.1. Drexel's freshman boat followed in second with a time of 5:50.1. In the first varsity eight race, the Dragons' boat finished in second behind Columbia with a time of 5:44.8 and with a time of 5:59.5 in the second varsity eight.
The women competed April 30 in Worcester, Massachusetts for the Eastern Association of Rowing Colleges Women's Sprints. Three boats advanced to the grand finals.
Drexel's third varsity eight finished with the team's best overall finish of the day. The boat finished third in the grand final. The varsity four came in fourth place overall, while the second varsity eight also advanced to the grand final and came in sixth.
The third varsity eight boat finished in third with a time of 7:33.144 behind Radcliffe College and Northeastern University. In the varsity four grand final, Drexel took fourth with a time of 8:00.917. Columbia finished first in that race with a time of 7:40.643.
In the second varsity eight grand final where Drexel took sixth overall, the boat finished with a time of 7:19.018. The winning time in that race was 6:49.595. In the varsity eight petite final, Drexel took second with a time of 7:06.68 behind Boston College.
The Dragons will return to action on their home course on the Schuylkill River where they will race May 12-13 for their fifth consecutive overall team title in the Dad Vail Regatta.