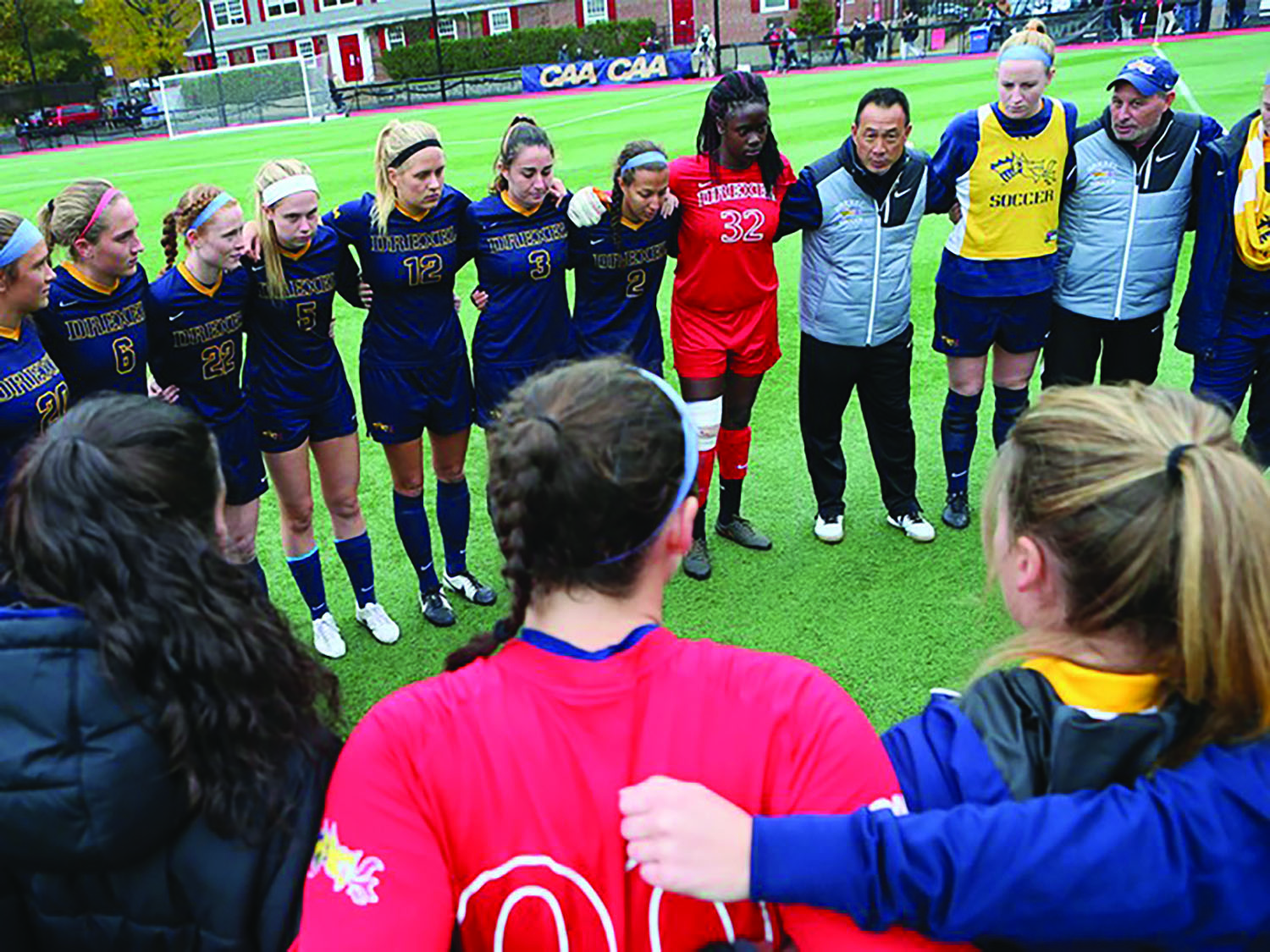 The Drexel University women's soccer team is back in action. They opened their season with a game against the University of Maryland Terrapins Aug. 18.
Within the first two minutes of play, Maryland senior Madison Turner took the first shot on goal that was saved by Drexel senior Christiana Ogunsami.
The next shot on goal came from Junior Rachel Sharkey but it was saved by Maryland goalkeeper Rachel Egyed. A final shot attempt on goal, by Maryland's freshman Mikayla Dayes with only 24 seconds left in the half, was saved by Ogunsami leaving both teams scoreless heading into second.
In the 49th minute, Mikayla Dayes scored an unassisted goal to put the Terrapins up 1-0. The Dragons were quick to respond, when less than two minutes later junior Vanessa Kara netted a shot on an assist by senior Wilhelmina Hauch-Fausboll.
The score remained tied until the 63rd minute when Maryland freshman Hope Lewandoski shot an unassisted goal to put the Terrapins up 2-1.
The Dragons stayed aggressive until the end with two more shot attempts from Madison Dunn and Vanessa Kara, but it wasn't enough to come back.
Keeper Ogunsami recorded three saves for this game.
The Dragons moved on to host the Quinnipiac University Bobcats Aug. 21 at Vidas Field, where they won 3-0.
Two freshmen for the Dragons, Raenah Campbell and Melissa Lyon, both had goals in the game with the third goal coming from Vanessa Kara.
Campbell's first shot on goal came on a header at the beginning of the first half, which was saved by Bobcats keeper Olivia Myszewski.
In the 21st minute, Wilhelmina Hauch-Fausboll setup Campbell for her first goal of the season to put the Dragons up 1-0.
A few minutes later, Melissa Lyon was substituted in for Campbell. During the 31st minute, Lyon scored unassisted to put the Dragons up 2-0 leading into halftime.
WIth two freshmen leading the scoring, the Dragons were fired up for the second half. They had outshot the Bobcats 7-2 after the first half.
It wasn't until the 62nd minute that Vanessa Kara was able to grab her second goal of the season and put the team up 3-0.
Goalkeeper Ogunsami recorded the shutout, facing three shots on goal. The Dragons took 15 shots, with nine on goal to outshoot the Bobcats 15-5 overall.
Both teams are now 1-1 on the season.
The Dragons will travel to Chicago for the Loyola Invitational to play Loyola University Friday, Aug. 25, and the DePaul University Blue Demons Sunday, Aug. 27.
To close out the month the action will continue in Philadelphia Aug. 31 against the La Salle University Explorers.