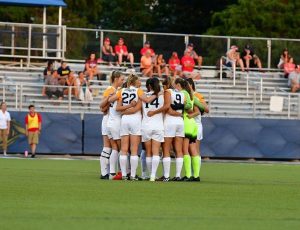 With two great games to end their season, the Drexel University women's soccer team was in great shape to take the Colonial Athletic Association by storm. Their first opponent was the College of Charleston in Harrisonburg, Virginia, Oct, 26.
Charleston, however, was the first to attack as they got a goal early in the first half. CAA Player of the Year Lauren Ortega took a free kick from Raymara Barreto and buried in the back of the net. She grabbed the ball from 45-yards out and snuck the ball past junior goalie Libby Baeza.
However, Baeza made crucial saves later in the half to keep Charleston from taking a larger lead. She pushed a header over the crossbar and blocked a low shot to keep the opponent's lead to one. Drexel had a chance to equalize towards the end of the first half, but Charleston's goalie Genevieve Henderson blocked the header from redshirt senior Kiera Hennessy.
In the second half, Charleston finally increased their lead to two when Ortega and Alyssa Beck assisted Maddy Brill-Edwards, who took the pass and tapped it into the goal. Although this doubled Charleston's lead, the Dragons did not give up. Later in the half, senior Shaelyn McCarty sent a cross from the left wing to freshman Morgan Rees, who then headed the ball into the net to get Drexel back into the game.
But, Drexel was not done yet. In the final minutes of regulation, the Dragons got the equalizer from a shot outside the box. Hennessy took a ground pass from Rees, who fired it past Henderson.
Now with some life put into them, the Dragons took the game into overtime. The two teams went back and forth, both trying to push for the lead. However, with less than six minutes left in the second overtime, Ortega weaved her way through the defense and was once again one-on-one with Baeza. Just as last time, she got the upper hand and the game-winning goal.
This was officially the end of the Dragon's season. They ended with a 7-7-5 record, with a 4-4-1 record against CAA opponents.