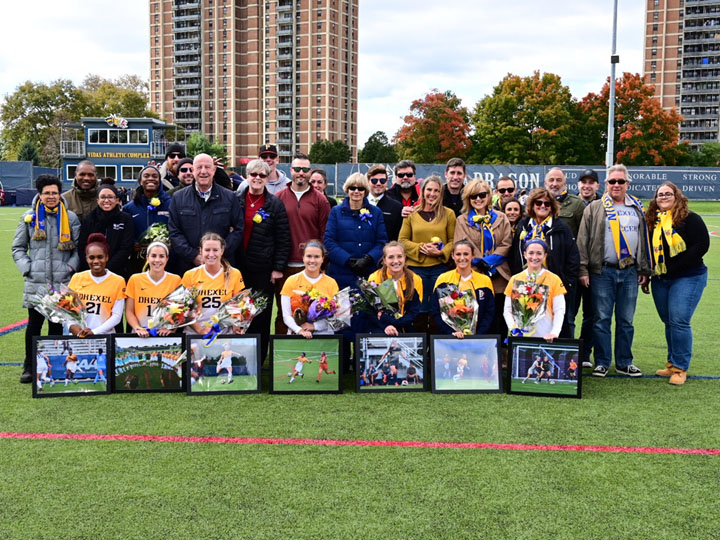 Nearing the end of regular season, the Drexel University women's soccer team was looking to get some additional wins to clinch a playoff berth. In order to do so, they had to get past Northeastern University Oct. 18 and Elon University Oct. 21.
In their first game of the week against Northeastern, Drexel got off to a fast start as sophomore Shea Tomlinson got a shot on goal within the first three minutes. It was blocked, but a corner kick by senior Shaelyn McCarty led to another shot on goal by freshman Morgan Rees. So, within the first five minutes, it was clear that the Dragons weren't going down easy.
Northeastern returned with their own offensive firepower, but it was to no avail. Finally, in the 32nd minute, it was Drexel that came out and scored first. Freshman Lauren Currey intercepted a pass by Northeastern and fed the ball to Rees, who then gave the ball right back for a give-and-go. This pushed Currey past Northeastern's defense and allowed her to fire a shot past Northeastern's goalie Nathalie Nidetch. This goal and two more saves by Drexel goalie junior Libby Baeza allowed Drexel to stay up 1-0 at halftime.
Northeastern came back in the second half looking for an equalizer, as they took multiple shots on goal, but Baeza and the Dragon defense was ready. They fended off every opportunity and eventually ended the game with a 1-0 win.
This was a huge Colonial Athletic Association win for Drexel since this was only Northeastern's second loss, and it bode well for their playoff chances.
The Dragons moved on from this win to a game against another crucial CAA foe, Elon. The game started off pretty tame, as the ball stayed in the midfield. Elon, however, was the first team to attack with a shot but Baeza was there for the save. Drexel came back with two of their own opportunities by Currey and senior Emma Heckenberg, but neither turned into a goal. Two more opportunities by senior Rachel Sharkey and freshman Rory Klingensmith led to the first goal of the game. A corner kick by Heckenberg found redshirt senior Kiera Hennessy, who drove the ball in the back of the net to give the Dragons the 1-0 lead.
In the second half, it was Drexel that got the first chance to go up 2-0 but Klingensmith's shot went wide. The Dragons had another opportunity to score with 20 minutes left in the half when a shot by sophomore Raenah Campbell led to a Heckenberg corner. Her corner did find Currey, but her header was wide. Two more Heckenberg corners led to unsuccessful goal attempts until a free kick from Heckenberg met the head of Currey, who flicked the ball into the back of the net for the Dragons' second goal. Elon continued to fight but it was to no avail, as Drexel won, 2-0.
This win clinched Drexel's playoff berth and earned them the No. 5 spot in the CAA championships. They will play No. 4 College of Charleston at James Madison University Oct. 26.