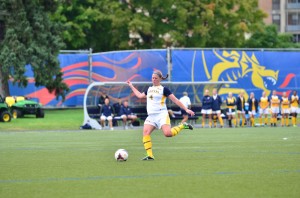 The Drexel Dragons women's soccer team fought hard to achieve a scoreless tie against Colonial Athletic Association rival University of Delaware Oct. 4 at Vidas Field.
In the first half the Dragons dominated the Blue Hens with seven to one shots, respectively.
During the 25th minute of play, senior Melissa Chapman tried for a header off a corner kick, but the shot went high. Minutes later, Gabby Dixon shook her defender and got off a shot in the box that was knocked down by a Delaware defender and did not reach the net. Seconds after, Dixon sent another shot towards the goal but the Delaware defense prevailed again and keeper Kailyn Rekos stopped the ball. The Dragons and Blue Hens went into the half tied at zero.
Play during the second half was much more balanced with each team delivering seven shots. In addition, both teams had several opportunities to capitalize off corner kicks. The Blue Hens had six corner kick attempts and the Dragons had eight. Despite these chances, no goals were scored in regulation time and the game went into overtime.
Delaware took possession of the ball promptly and within 33 seconds, Blue Hen Andrea Arnold brought the ball down to Drexel's goal. Arnold's shot was contested by the Dragon defense, resulting in a corner kick, followed by a wide shot from Delaware's Natalie Zelenky.
Drexel gained possession and pressured the Delaware defense allowing Megan Hammaker to take a shot which was followed by an attempt by Civanni Moss.
The Blue Hens regained possession and fired two shots that were saved by Drexel goalkeeper Kelsie Fye. In the 96th minute, Delaware's Maddy Parker delivered a shot which was saved by Fye. Seconds later, Fye made another crucial save when Delaware's Rachel Vaccaro delivered a strong shot. The game proceeded into double overtime as neither team was able to get on the board.
Drexel had two attempts in the second overtime but failed to score. The game finally ended after 110 minutes in a scoreless draw.
This game extends Drexel's unbeaten streak to six games and shutout streak to five games. Drexel's keeper Fye had seven saves in the game and has passed Kaitlin Bond for consecutive minutes without allowing a goal.
The record held by Bond was for 505 minutes; Fye has not allowed a goal for 549 consecutive minutes of play.
"I feel more than honored to have passed Kaitlin Bond's record," Fye said. "It's very hard work to keep shutouts during games and I couldn't have done it without my team, especially the defenders. They are all very hardworking players and always put in so much effort to do what's best for the team. I look forward to hopefully continuing to keep up the shutouts and do my best to help get my team to the CAA playoffs."
Overall, Drexel tallied 19 shots, while Delaware had 13. The tie makes Drexel's record 5-5-2 and Delaware's record 6-5-1. Both teams have a 2-0-1 record within the conference.
Regarding the upcoming games, Fye said that the defensive strategy will not change considerably.
"We always want to be sharp going into every game. We try to counteract the strengths of our opponents and try to transition into the attack as quickly and sufficiently as possible. The basis of defense is working hard and putting all the effort in and so far we have excelled in every single game," she said.
The Dragons go on the road for their next two games to face conference opponents. Drexel travels to Elon University for a game Oct. 10 and then to The College of William & Mary for a game Oct. 12.