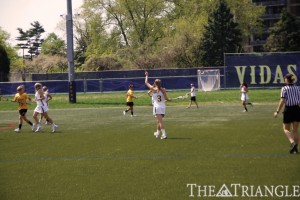 Last week, when Drexel women's lacrosse head coach Anna Marie Vesco was asked what her expectations were against top-seeded Towson University in the first round of the Colonial Athletic Association Championships, her response was simple.
"… Of course my answer would be to win it all," she said.
Despite a solid effort in which the Dragons fell behind late in the second half but then surged with five goals in the closing five minutes of the game, bringing the deficit to just one goal with 14 seconds remaining, Towson goalkeeper Mary Teeters denied the final Drexel attempt, sealing the Dragons' fate in a first-round 12-11 CAA loss.
"Our expectations heading into the game were that Towson was going to be a tough team, but we expected to win," junior midfielder Kelli Joran said. "Our goal was to not only make it to CAAs but to also win the championship. We definitely had a few breakdowns throughout the game, but by the end of the game, we almost came back and won. If we had played that way throughout the whole game, then we would have beat them."
The game was quite even from the first whistle until the end of the first half of play. Towson held the 5-3 lead going into the locker room, but Drexel was right there and ready to pounce at the start of the second. Unfortunately, so were the Tigers. And they jumped on Drexel early, pouring it on in the first 24 minutes of second-half play with seven goals to Drexel's three.
But fortunately for the Dragons, there was enough time for them to make a run of their own — and that they did, playing superbly on both sides of the ball for the last five minutes of the game. Drexel held Towson without a goal from six minutes until the end of the game and scored five times in the final 5:20 off the sticks of junior midfielders Kristin Kopenhaver and Joran, as well as senior attacker Charlotte Wood and two from junior attacker Alyse Maiden. Fortunately for the Tigers, the Dragons needed six goals to tie it, and with 14 seconds remaining, Drexel's final shot on goal, which came off of Joran's smoking hot stick, was unable to find the back of the net.
"I was fairly confident going into the Towson game," Vesco said. "A minor jolt was thrown at us when Jaclyn Klunder went down with an ankle sprain two days before the game. Klunder was our calming force on the field, and she quarterbacked our plays. Even though Klunder was on the field, she was not 100 percent. Other players had to step into Klunder's role, but our sense of urgency came too late as we jumped and ran out of time on the comeback trail."
Now that the season is over, despite the fact that it didn't end in the way the players and coaches had hoped, they now get a chance to sit back and reflect on all they have accomplished this season.
"Drexel women's lacrosse is filled with heart," Maiden said. "We fought many battles this season that made us stronger. When it came down to the wire, we never gave up. Our goal was to be a top competitor in the CAA, and together we proved that."
That they did. They finished the year as a top-four team in the conference by winning a program-record 11 games. They also managed to have five players earn All-CAA honors. Joran was named a First Team All-CAA performer; Maiden, sophomore midfield Amanda Norcini and senior defender Emily Kane were named Second Team All-CAA performers; and redshirt-freshman attacker Alissa Watts was named to the CAA All-Rookie Team. On top of that, Maiden and Joran were also named to the CAA All-Tournament Team after their performances against Towson in the semifinals.
"We are excited to get five players on CAA teams," Vesco said. "That's a first for us. We would definitely like to believe that we would be a perennial contender in the conference going forward."
Vesco's players continued on that sentiment, feeling as though they had a great season, but they hope to build on that success and continue to improve.
"We had a great season this year," Joran said. "We finished the season off with a good record. At the beginning of the season I expected to win CAAs. We did not quite reach that goal, but we definitely made a good run for it, and I'm proud of our team."
With Maiden and Joran returning to lead this team in 2013, along many of their supporting teammates, the Dragons will have a good chance at recouping what they will lose with the graduation of Wood, one of the top attackers in Drexel history, and Kane, a rock on defense all season long.
"It will be a big loss," Vesco said. "Charlotte has been a constant high scorer and will be hard to replace."
The Dragons will have yet another season in which they will make some noise in the CAA, and with many of their players now having two years of postseason experience under their belts, don't be surprised if the Dragons chisel their names onto that championship trophy next season.
"KJ [Kelli Joran)] and Alyse will have to step up into an even bigger role in order for next year's team to contend," Vesco said. "On the other side of the field, we will need players like Kaitlin Harris, Amanda Norcini and Kristin Kopenhaver to step up on the defensive end to make up for the loss of Emily Kane and Julia Lanzetta."