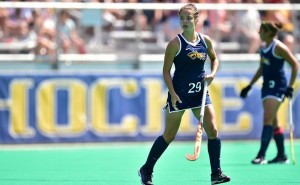 Although we have only just officially finished the first week of the new term, Drexel's field hockey team has already been through about a month of action. In that time, the Lady Dragons have accumulated just two wins to six losses. Despite the seemingly bleak start, fretting over the state of this season is premature because this team has great potential.
In the sports world, it is possible to deem the word potential as a euphemism for "not very good," but in the case of Drexel's Field hockey team, potential actually means potential to be great.
In the six games that the Dragons have lost, opponents have averaged fewer than three goals per game. The offense for the Dragons has been a different story, because in games that the Dragons have lost the team has averaged less than one goal.
When we use the word potential with this team it means that the defensive abilities are there, it is simply the offense that needs to show up. On Sept. 28, the Dragons were able find their offense against Lafayette University, scoring three goals and allowing just two. If the Dragons could average three goals a game, they would have a record of 5-3 rather then 2-6.
A constant offense would make this team an instant threat to any opponent they face. Head Coach Denise Zelenak commented on this saying, "As for consistency, the challenge of team sports is not your team, it's your opponents. We will continue to create opportunities at practice to help encourage both skilled and savvy play."
Zelenak is absolutely correct. The Dragons have faced some stellar competition and it has been difficult to get the offense going against these teams. As Zelenak explained, however, the team will continue to practice its execution of offensive sets to better ensure a more consistent playstyle.
Focusing more on the game this past Monday against Lafayette, the Dragons were able to overcome a two goal second half by the Leopards to win 3-2. Megan Wiest was the breakout star of this game, scoring two pivotal goals in the first half. Clearly without her stellar play the Dragons would like have suffered another loss. Wiest is clearly a promising young talent who will continue to develop and help this team win. Wiest's great play also earned her Colonial Athletic Association's Rookie of the Week.
Drexel's third and final goal came from the stick of Katie Bagdon at the 15:40 mark. This huge goal sealed the victory for the Dragons. Defensively, Drexel played another great game, only allowing two goals. Both goals came in the second period, giving the team and fans a scare, but ultimately the Dragon defense was too much for the Leopards to overcome.
The win comes at a very opportune time. On Oct. 2 the Dragons will open conference play, starting with a matchup against Northeastern University. Zelenak explained how this win against Lafayette would help the team. She said, "it is the result we were looking for prior to starting conference. We are very proud of how the team has consistently pushed forward while maintaining a positive outlook. Conference play is the key part of our 2015 season. We have a great opportunity available to us and we will take it one game at a time."
The Dragons have got to be feeling good about their chances after this win. They finally matched their great defense with an offense. It will be tough for the Dragons to consistently play offense well enough to beat better teams, but they will clearly continue to play hard and practice hard. This is a very good team, with young talent and a good mindset. All they need is a few more offensive adjustments and this team will be a force to be reckoned with.