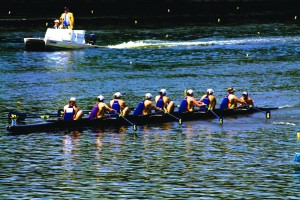 While the men of the Drexel University crew team dominated the Aberdeen Dad Vail Regatta, earning most of the points to win Drexel a third-straight title, the women's team had its time to shine May 17 at the Colonial Athletic Association Championships Regatta.
The regatta, held at Mercer Lake in West Windsor, New Jersey, hosted women's teams from five top-notch rowing programs in the CAA conference. Joining Drexel on the water were teams from the University of Delaware, Northeastern University, Eastern Michigan University and the University at Buffalo.
Going into the race, the Dragons had hoped to move up a place from their finish last year, incrementally climbing towards the top spot. In 2014, the Dragons took third behind second-place Buffalo and first-place finisher Northeastern.
While first place would have been ideal, head coach Paul Savell said their goal was simple: just get one notch closer to the top.
And, as usual, the Dragons did not disappoint. Earning 30 overall points, the women took second place behind Northeastern and also passing Buffalo.
The teams racing earned points from three different races: first and second varsity eight boats and the varsity four. However, the championships also had a third varsity eight boat race.
Drexel took second place in the varsity four, the varsity eight and the second varsity eight races, which earned them enough points to achieve second place.
In the first varsity eight race, the Dragons were edged out of first place by less than three seconds, with Northeastern just barely grabbing gold.
The Dragons also took third place in the third varsity eight race.
First place finisher Northeastern totaled 36 points in the regatta, and Buffalo trailed Drexel with 22 points of its own.
In addition to the team places, individual honors were awarded May 17. Four Drexel women received honors.
All of the ladies that received awards were senior members of the first varsity eight boat.
Three of the honorees, six-seat Jayme Batcher, three-seat Bridget Pfeifer and coxswain Cat Hamilton earned positions as members of the
All-CAA rowing team.
Amanda Kleuser, the two-seat in the varsity eight boat, was the other award member. She was named to the All-CAA academic team.
With the women done for the season, the crew team's only competition left is the Intercollegiate Rowing Association National Championships May 29-31. The regatta will also be held at Mercer Lake.
The championships have been a main goal for the Dragons all season, after Drexel finished No. 19 nationally last year.