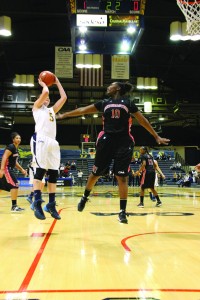 "It was definitely a self-accomplishment."
Those were Sarah Curran's humble words describing her stellar freshman season on the women's basketball team, in which she totaled 22 starts, 241 points and snagged a spot on the Colonial Athletic Association All-Rookie Team.
None of these statistics are common for a freshman — she averaged 22 minutes a game and was the team's fourth leading scorer in her rookie season only following seasoned Dragon basketball players — accomplishments certainly not to be overlooked. But for Curran, it's just another part of the game.
"[My freshman season] was definitely special, but at the same time, it was just me playing basketball, and that's what it felt like. I was just playing the game I love," Curran said.
"Obviously people come to college, [and] when you play basketball, you want to play basketball, so it was really cool that I got to start right away and play in games and that my coaches and teammates looked to me so much as a freshman," she continued when asked about her experience during her freshman season.
As the team hit a slight lull last year, tallying a record of 15 wins and 16 losses for the season, on the whole, Sarah was certainly relied upon as a key contributor. Despite her rookie status she was a starter for most of the season, with her only absence from the starting line up being due to injury.
"She certainly was a positive from last year's season," Denise Dillon, head coach, said of Curran's impact during the 2013-14 season. "Individually we saw a lot out of our young players, and Sarah, being one of those key young players, and as a freshman making the all-rookie team, was something we could build off of in conference play. As I feel, you want to develop a different area of your game each year and add to it, and Sarah has proven to be that player."
Now, as a sophomore, Curran is looking to step up her game again, and have an even better performance on the court this upcoming season.
"I expect more from myself. Obviously as a freshman, you get away with a little bit more, making mistakes," Curran said. "Coming in as a sophomore there's no more 'she's a freshman.' I'm definitely expecting myself to not make as many mistakes, especially the little things."
Instead of getting acclimated to the college game, she will personally look to work on her own strengths and weaknesses as a college player, instead of a high school player adjusting to the collegiate game.
Additionally, she hopes to take up a leadership role on the squad for the freshmen on this year's team.
"Now that I have underclassmen, I want to be a role model for them on and off the floor. … They can turn to me and I can help them through it," Curran noted.
The coaching staff alike is looking forward to seeing Sarah develop during her sophomore season and watching her take on a larger role as an experienced player in the Dragon basketball program.
"The biggest jump in Sarah's play is on the defensive end. We're aware of what she can do offensively — she's solid on the move around the basket, we've really worked on the repetition of her jump shot and three point shot, but the defensive end is an area she continues to focus on and work to become a better defender against post and guard play," Dillon said.
A Philadelphia-area native from Media, Pennsylvania, and an Archbishop John Carroll High School alumna, Curran enjoys playing close to home and with her former high school teammates, Meghan Creighton and Rachel Pearson.
She likes that her family, especially her grandfather, who lives nearby, can make it to the games and see her compete at the college level. "I definitely don't feel added pressure, I like that when my friends are home they can come and see my games. It's cool to have that," Curran said.
Curran is looking forward to the beginning of games and to get the season rolling.
"I'm definitely looking forward to games starting, CAA play especially. I'm looking forward to playing [the University of] Delaware, our rival, [James Madison University], and just really get the season underway because we've been preparing since we lost last year," she said.
On the whole, Curran and all the Dragons are looking to improve upon last year's season.
"Every school in the country's hopes are to win their conference championship. We are focused on having a better record out of conference to prepare us for a tough conference schedule in January and February," Dillon said.
Curran and the rest of the women's hoops squad get into action Sunday, Nov. 16, at the Daskalakis Athletic Center at 2 p.m. versus Ivy League competitor Cornell University.