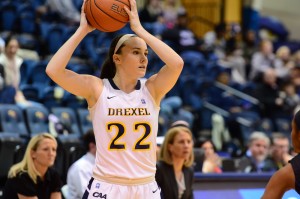 In the wise words of the Drexel University women's basketball head coach Denise Dillon, "If you feel that you've accomplished what you've set out for this season, then you're not going to get past Friday."
Friday, March 13, the day the Dragons have been waiting for — the chance to reintroduce themselves to the post-season. After a tough season last year, the Dragons didn't see the playoffs. This weekend, they head into the Colonial Athletic Association tournament with the second seed, achieving an impressive regular season record of 20-9, going 14-4 in conference play.
Given the season's schedule, the Dragons have had a more than a week to prepare themselves for what they hope to be a long stint of postseason play. However, their main focus has been bettering their own game, not trying to nail down the strategy of their potential opponent. As the second seed, Drexel will play the University of Delaware (No. 7) in the opening game for the Dragons.
But Dillon isn't worried about who the Dragons will face — she's more focused on the team and each individual Drexel player, being the absolute best they can be.
"If you get caught up in figuring out which team that's going to get that first game, you're taking away from yourself a little bit," Dillon said. "We're zeroing in on just becoming better defenders, better rebounders and executing our offense better, so we're ready for whatever team we face," she continued.
If the Dragons grab the first win March 13, they have the opportunity to advance in the tournament, which will be played in its entirety this weekend. The quarterfinal games on Friday will be followed by a semifinal round on Saturday, March 14, with the championship game set for Sunday, March 15 at 1 p.m., creating a demanding schedule for whichever teams continue to win over the weekend.
Drexel will begin their post-season journey at 5 p.m. March 13 in Upper Malboro, Maryland at the Show Place Arena.