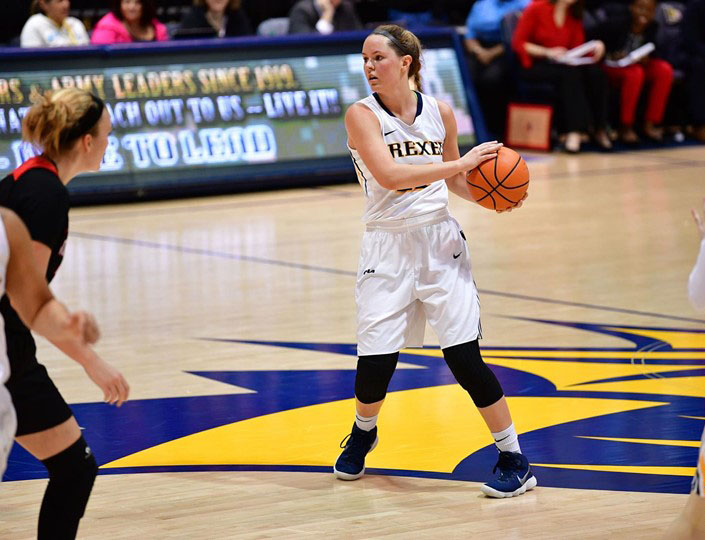 The Drexel University women's basketball team has not lost a game since Jan. 7. They have continued to show their heart and determination by winning the last eight games in a row.
Their last two games against Towson University Feb. 2 and the College of Charleston Feb. 4 have given this incredible team the spark that they need to continue on their path to the Colonial Athletic Association championships. The Dragons are 10-0 at home, 18-5 on the season and 10-1 in conference play.
The matchup against Towson was smooth sailing for the Dragons as they began their lead immediately at the start of the tip off. This was their first time seeing Towson this year, but they will travel to Maryland to play the Tigers again Feb. 25.
The Dragons were up 15-4 with 5:09 left to play in the first quarter. Seniors Megan Marecic and Sara Woods each grabbed successful layups to increase that lead to 13 points.
Sophomore Bailey Greenberg was sent to the free throw line after a foul on Towson's Maia Lee, and she made both of her shots easily.
A 27-10 lead at the end of the first quarter was increased by four more points in the first four minutes of second. By halftime, the Dragons had a 20-point cushion heading into the locker room.
Woods had 14 points in the first half, and freshman Hannah Nihill was close behind her with 12. Nihill was shooting perfect numbers playing the full 20 minutes for the first two quarters.
A final layup in the third quarter from Greenberg off a fast break play put the Dragons up 59-34, and the fourth quarter seemed no different.
The Dragons defeated the Towson Tigers 78-53. Woods finished with 18 points and seven rebounds. Greenberg has 14 points, and Nihill had 13 points and six assists.
The team then looked ahead while they traveled to Charleston, South Carolina, to play the College of Charleston for their next CAA matchup.
The teams were back and forth for the beginning of the first quarter until the Dragons found their winning rhythm to hold Charleston to only 11 points.
After the first half, senior Kelsi Lidge had 10 points and three assists, and the Dragons were up with a comfortable lead 42-26.
A strong team performance in the second half lead to another victory for the Dragons and a triple-double for sophomore Aubree Brown, only the second time this has been done in program history. Brown finished with 10 points, 10 rebounds and 11 assists.
Greenberg finished with 16 points and eight rebounds, while Lidge finished with 15 points, six rebounds and four assists.
The women's basketball team will travel to Elon, North Carolina, for their game against Elon University Feb. 9 and then to Wilmington to play the University of North Carolina Feb. 11.