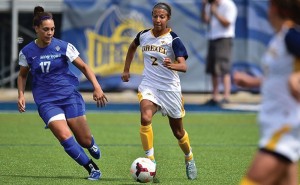 The Drexel women's soccer team dropped their first two Colonial Athletic Association matchups this past weekend.
Drexel was defeated by the University of North Carolina Wilmington at an away game Sept. 25. The final score was 3-2.
UNCW got on the board first taking an early lead four minutes into regulation. Katrina Guillou found Stephanie Bronson who registered the score for the Seahawks.
Soon after, UNCW added to their lead when Moa Jarl received a corner kick and sank the ball into the back of the net.
With time expiring in the first half, sophomore Kylie Strong scored for the Dragons. Strong delivered a corner kick that curved over the keeper's head and into the net, putting the score at 2-1 before going into the halftime break.
Five minutes after the start of the second half, Jarl passed to Maddie McCormick and the Seahawks scored their third goal.
Drexel Freshman Vanessa Kara cut UNCW's lead to one, scoring her sixth goal of the season.
Despite a last minute effort from the Dragons, the Seahawks held on to their advantage.
"We came out a little flat in the first match against UNCW and we paid for it," Head Coach Ray Goon said.
Graduate student goalkeeper Eve Badana had six saves that night, while UNCW's Carolyn Huddy tallied only three.
The Seahawks' record improves to 8-3 overall and 1-0 in CAA matchups.
At their next game on Sunday Sept 27, the Dragons fell to the College of Charleston Cougars by a count of 2-1.
Drexel got on the board first and held their lead through the first half. Forward Kara scored the only goal for Drexel, bringing her total goal count this season to seven. Kara delivered a shot that bounced off the left post and into the net.
After the break, Charleston tied the game when Raymara Barreto received a pass from Laura Ortega and sent the ball into the net.
Shortly after, Cougar Jessica Schifer gave Charleston the lead. Schifer scored on a breakaway after being set up by at midfield by Sara Deutsch.
The Cougars held on to their 2-1 lead to seal the victory. Badana recorded three saves and Cougar Lauren Killian had four.
Goon said, "Against Charleston, we should have put the game way in the first half, but I feel we let up a bit after scoring the game's first goal. We let them hang around and you can't give conference teams an opportunity to get back into the game."
Charleston improves to 8-3 overall and 2-0 in conference play, while Drexel moves to a 6-5 record, 0-2 in CAA games.
"A significant portion of our squad is young. By this I mean that they are not battle-tested. In some instances we were prepared and in others were not this weekend," Goon continued, commenting on the strengths and weaknesses of the team displayed through these first two CAA games.
Regarding future games, he added, "We have to focus on playing with mental and physical intensity from start to finish, 90 minutes and more if necessary. We'll concentrate on keeping this level of intensity in everything we do this week in training."
The Dragons return to action at Vidas Field Oct. 2 when they face the Towson University Tigers.
"We are a team sport, and thus we need everyone to step up their game whatever their roles or responsibilities are for the team right now. It doesn't matter if you're a starter or non-starter, playing or not playing, coach or player, we all have duties to fulfill. And when our team loses, we all have to step it up," Goon said.