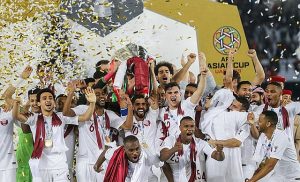 In December 2010, football history was made when FIFA voted to award Qatar as the host of the 2022 World Cup. The World Cup is the largest sporting event in human history and the people of Qatar were delighted to hear it's coming to their shores in 12 years' time. By the time the tournament starts, the 2022 World Cup will be only the third World Cup hosted in an Asian country and the first in an Arab nation.
Since 2010 however, things have not been as smooth sailing. In fact, giving Qatar the hosting rights has become one of the most controversial decisions in the football world. The Qatari government is already controversial itself, especially with the recent political turmoil between Qatar and their gulf neighbors over the issue of state-sponsored terrorism. However, Qatar's World Cup bid has been routinely under scrutiny and many accuse them of bribing or stealing the hosting rights. Several major allegations were brought forth, saying that committee officials were bribed to vote for Qatar's World Cup bid and an investigation led by FIFA was conducted. Qatar was found innocent but considering that FIFA is arguably the most corrupt organization in world sports, the credibility of their decision is not strong. The controversy was reinvigorated in 2015 after the U.S. Department of Justice arrested several high-profile FIFA employees on the account of bribery and corruption, and currently, the FBI is still investigating their bid to host the World Cup. At this point though, there is little chance Qatar will be revoked of its hosting rights.
Beyond the bid itself, there exist many other contentious issues surrounding a World Cup in Qatar. Firstly, a World Cup obviously means millions of people from all over the world, from all different backgrounds coming to the same place to watch football and Qatar is a country ruled by Sharia Law, a controversial social climate by Western standards. There have also been numerous allegations of human rights abuses and even slavery, surrounding the thousands of South Asian workers who were imported to Qatar to build the stadiums. It has been reported that workers have had their passports confiscated, forcing them to stay in Qatar, all while their pay is withheld, working and living conditions are extremely poor and they are refused water, food or other amenities. The death toll among workers is also estimated to be in the thousands, much higher than construction on stadiums in previous hosting nations.
Given that Qatar is a nation on the Arabian Peninsula where it is a desert-climate, the temperatures reach upwards of 120 degrees during the summer when the World Cup is historically held. Therefore, this World Cup is being moved to the winter of 2022, ending a week before Christmas Day. This creates a plethora of problems as it not only cuts through players' Christmas breaks but also heavily affects the regular club seasons all across the world as most European leagues are in the middle of their season by that point, while most leagues in the Americas end in December. 
On the footballing side of things, similar concerns exist. For example, the host nation's team, the Qatari National Team, simply does not have a high footballing pedigree and Qatar does not have a history of football culture similar to that of previous hosts. Obviously, these are not legal requirements for a host nation, but it is often expected. Qatar will feature at their first-ever World Cup in 2022, and given that the host nations automatically qualify, Qatar has never actually qualified for a World Cup. In fact, the Qatari National Team did not even exist until 1970.
Beyond the World Cup, the Qatari National Team did not have any serious achievements before 2019. Until the most recent edition, the furthest Qatar made it in the AFC Asian Cup was only the quarterfinals. Qatar has won the Arabian Gulf Cup four times, and while this is still a commendable honor, the quality of opposition and the overall pedigree of the Gulf Cup does not compare to the Asian Cup, let alone the World Cup. 
However, while they may not have an illustrious footballing history, the Qatar Footballing Association has worked extremely hard to close the gap in the past few years, in what may turn out to be one of the most well-coordinated and organized World Cup preparations for a host nation's team. One of the first things they did was strengthen the top domestic league in Qatar, the Qatar Stars League, as well as club football in general in the country. 
But 2019 was the year the national team really started to turn some heads. Qatar competes in the AFC Asian Cup every four years, but heading into the 2019 Asian Cup they focused heavily on making a good impression considering their upcoming World Cup; the fact that this Asian Cup was being hosted in Qatar's rival homeland, the United Arab Emirates; and since they had such a poor showing at the last Asian Cup, a humiliating group-stage elimination back in 2015. 
With a squad of largely unknown players, Qatar maintained a perfect record in the group stage, scoring 10 goals and conceding zero after crushing victories over Lebanon, North Korea and rivals, Saudi Arabia. Qatar then overcame a valiant Iraqi-side 1-0 in the Round of 16 before narrowly eliminating South Korea, 1-0 again, in the quarterfinals. This win was particularly impressive given South Korea were finalists in 2015, and one of the best teams in Asia. Qatar lined up against heated rivals, the UAE, the host nation, in the semifinals in what would turn out to be a statement win, humiliating the Emiratis 4-0 on their home turf. Qatar then faced Japan in the final, and despite Japan being historically the best team in Asia and on a strong run of form, Qatar thoroughly outplayed them, winning 3-1 and securing the trophy — their first Asian Cup. 
I am not Qatari or a fan of Qatar, so I have no bias when it comes to this instance, but even I will admit, that to say that Qatar played great at the 2019 Asian Cup would be a gross understatement. In just seven matches, Qatar scored 19 goals and only conceded once, from Japan in the final. Not only did they score a lot, but Qatar also scored some great goals and played beautiful possession-based football under the Spanish manager, Felix Sanchez Bas.
Qatar also swept the individual awards, with Saad Al Sheeb winning the Best Goalkeeper Award and Almoez Ali winning both the Best Player award and the Top Scorer Award with nine goals in seven matches, including an outrageous bicycle kick in the final. When the captain and star player of the team, Hassan Al-Haydos, lifted the trophy, many Qatari fans who were nervous about their team's performance in the upcoming World Cup were relieved.
However, one controversial strategy the FA has recently used to prepare their team for the World Cup, one that is unique to Qatar, is that they have tried to get their national team to test themselves against as much foreign opposition as possible. Later on, in 2019, Qatar was invited to compete in the Copa America hosted in Brazil, South America's continental tournament. Since there are only 10 South American national teams, two guest teams are always invited, usually from North America, but in 2019 Qatar was invited, becoming only the second Asian team to do so. And while Qatar had to heavily adjust, playing against much stronger opposition and in a whole other continent, they fared better than expected despite finishing last in their group, being eliminated in the first round.
In their first match against Paraguay, Qatar found themselves 2-0 down by the second half, however, they were able to utilize their total football style of play and claw back to a 2-2 scoreline in a deeply entertaining match. Afterward, Qatar faced an in-form Colombia side, where they held on the entire match until the very end with Duvan Zapata's winner in minute 86 ensuring defeat for Qatar. Even though they would succumb to a 2-0 loss to Argentina in the final group game, Qatar left Brazil with their heads held high, knowing they cut their teeth against the best of South America without getting embarrassed.
Their voyage across the world will not stop there, however, as Qatar was again invited to the 2021 Copa America, where a new format means they have been drawn into a group with the likes of Colombia, Peru, Venezuela, Ecuador and the reigning champions, Brazil. Given there are six teams in this group, the top four teams qualify for the knockout stage, meaning Qatar will expect to improve on their last performance and make it past the group stage.
In North America, Qatar was also invited to participate in the 2021 Gold Cup, North America's continental cup, again becoming only the second Asian guest nation in Gold Cup history. Qatar has since been drawn into a group with Panama, Honduras and Grenada where the Qataris look to have a good chance at progressing, possibly even topping the group. 
Furthermore, in Europe, the 2022 World Cup qualifying process sees all the European teams split up into 10 groups of six in a round-robin format. However, since there is an uneven number of European National Teams, some groups will have only five teams. Given the open slot, Qatar has been "unofficially" drawn into one group, Group A, alongside Portugal, Serbia, Republic of Ireland, Luxembourg and Azerbaijan, meaning that they will travel to Europe and play the extra games. Although victories, losses, goals scored or conceded against Qatar will not officially count towards World Cup Qualification for these European nations, they still are essentially part of the group. 
Also, after the FIFA Confederations Cup was scrapped, FIFA have created an entirely new tournament, the 2021 FIFA Arab Cup. This brand-new tournament will be hosted in Qatar exactly a year before the World Cup starts and will feature exclusively Arab nations from across Africa and Asia.
Overall, before the next World Cup kicks off in late November of 2022, Qatar will have strong experience against opposition from Asia, South America, North America, Africa and Europe. If not for the Coronavirus pandemic postponing the 2021 Africa Cup of Nations to early 2022, one suspects Qatar will have participated there as well. While guests featuring in these tournaments may greatly benefit the team it is not without critics. Many condemn Qatar, saying the FA is just using its massive wealth and international connections to "pay" their way into these tournaments in order to unnaturally manufacture experience. And again, this is unprecedented in football, never before has a team, let alone a World Cup host, done this. 
But will Qatar be ready for the 2022 World Cup? In terms of political and social issues, that remains to be seen. Although, from a strictly footballing perspective, I think they will be thoroughly prepared. As I have mentioned before, Qatar has faced numerous criticisms, most of them justified in my opinion. However, I think that we must see beyond these criticisms when looking strictly at Qatar's playing ability, because by 2022 I think the host nation will have a serious team on its hands. Many football fans are fully expecting Qatar to get utterly blown out in the first round in a humiliating fashion. While this may be to the delight of most of us, I regret to inform that it's unlikely. As we have seen already, Qatar was nearly perfect at the 2019 Asian Cup and will gain invaluable experience in further tournaments; host nations at the World Cup also historically overachieve. So will Qatar collapse in the first round, or will they surprise everyone and make a deep run? We will have to wait until the winter of 2022 to find out.