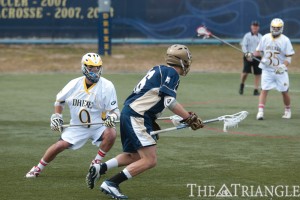 Senior defenseman Dana Wilber was named to the United States Intercollegiate Lacrosse Association All-American third team May 24. His addition to the All-American team made 2012 the fifth out of the previous six years that a Dragon was named to the honorable roster. He joined Scott Perri, Mark Manos, Bruce Bickford, and Adam Crystal.
Despite the fact that the Drexel University's men's lacrosse team's 2012 season ended in heartbreak May 5 at the hands of the University of Massachusetts in the Colonial Athletic Association Championship Game, the Dragons also experienced a final high note.
Senior defenseman Dana Wilber was named to the United States Intercollegiate Lacrosse Association All-America third team on May 24. This also happens to be his first selection as an All-American. After receiving this honor, Wilber could hardly contain his delight.
"As a senior, you want your last year to be memorable. To be named an All-American by my peers is a huge honor and also creates a great memory," he said.
Furthermore, his inclusion in the All-America team made 2012 the fifth year out of the last six that a Drexel men's lacrosse player was named to the roster, joining the likes of attackman Scott Perri (2011), goalkeeper Mark Manos (2010 and 2011), goalkeeper Bruce Bickford (Honorable Mention, 2008), and defenseman Adam Crystal (Honorable Mention, 2007).
Wilber served as a de facto leader on defense for Drexel this past season, finishing second on the team in ground balls (31) and in forced turnovers (18). He also played a vital part in helping his team finish 12th  in the country in scoring defense, giving up a miniscule 8.75 goals per game.
Wilber said he believes that he couldn't have earned such an honor without the efforts and support of his teammates.
"I would attribute essentially all of our success as a unit to our coaching staff and defensive system," Wilber said. "Our coaches do a great job of developing the players and preparing them to play as a cohesive group, which essentially is the first step in creating a good defense."
Despite receiving such considerable accolades, he feels that more recognition should have gone Drexel's way with regard to the team's stellar defensive performance this season.
"While it is a great honor to be an All-American, I believe that the entire defensive team wasn't justly recognized," Wilber said. "We had a strong collection of talent on the defensive end, and in order to be successful, you need every person to play well."
Wilber's four years at Drexel have coincided with the team's success trajectory. In 2010 the Dragons achieved their highest final national ranking of No. 13, which saw them defeat the University of Notre Dame, a perennial powerhouse, for the first time in school history. Yet never in Wilber's time at Drexel did the Dragons reach the NCAA Tournament, losing in the CAA semifinals in 2009 and 2010 to Towson University and the University of Delaware, respectively.
While his individual achievements and triumphs are impressive, Wilber wanted nothing more than to end his career with a greater and perhaps more collective accomplishment.
"The perfect cap to my Drexel career would have been to represent the University in the NCAA Tournament, but being named an All-American is a decent consolation prize."