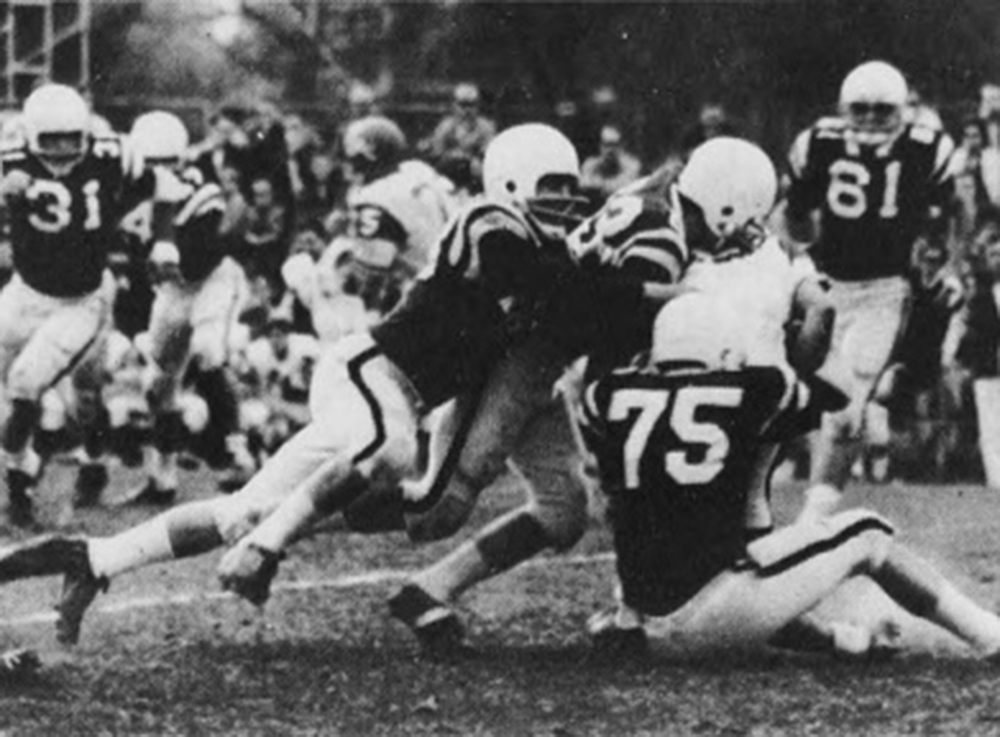 If you search for the phrase 'Drexel Football Team,' chances are that you will either get results for the improv comedy club, or the team that was disbanded in 1973. This is because, unlike many colleges in America, Drexel does not currently have a football team. Why is that? The short answer is cost. It costs money to hire staff, recruit players, and build facilities.
In order to understand what a football team at Drexel might look like, it is helpful to compare it to a similar school that does have a football team.
A school similar to Drexel for this purpose is the University of Delaware. Delaware is a school in the Coastal Athletic Association, has a similar level of enrollment (18,022 vs 13,977), and is often considered a rival in other athletic programs. One important difference between Drexel and Delaware is that Drexel is a private university while Delaware is public. However, this means that Delaware's financial records are publicly available, making their football expenditures easily understandable.
One caveat to this comparison is each university's endowment. According to the National Association of Colleges and University Business Offices, Drexel's 2022 endowment was 948 million dollars. Delaware's was almost double that at 1.781 billion in 2022.
In 2021, the US Department of Education released an Equity in Athletics Data Analysis report that showed that the University of Delaware spent $8,789,828 on total expenses for its football team. These expenses are likely related to equipment, coaching salaries, scholarships, and other day-to-day operations.
In the same time period, Delaware's revenue from football amounted to $8,898,716. This is a net profit of $108,888.
Costs to run a football team do not include costs to start a football team. Before a team can even take the field, a stadium, practice facilities, locker rooms, weight rooms, offices, and a staff need to be built.
How much would it cost to build these facilities? It really depends. A 2016 article by CBS said $75 million dollars. However, a report done by Virginia Commonwealth University earlier this year estimated it costs closer to $200 million.
These numbers vary greatly because of the existing facilities a school could have. A stadium, which VCU doesn't have, can easily cost millions of dollars to build from the ground up.
Luckily for Drexel, Vidas was once used as a football stadium, and it could potentially be renovated back into one. However, the area would have to be enlarged for more fans, as the current capacity is only 1,500 people. For reference, the University of Delaware's football stadium holds 18,500 people.
It would be impossible to estimate how much it would cost for Drexel to start a football team as these reports were done for specific schools. Assuming the average of these two numbers, forming a football team could cost around 138 million dollars.
In the US Department of Education report, Drexel reported that they spent $25,699,496 in expenses for all 18 varsity teams in one year. In order to fund a football team for its first year, Drexel would need to spend more than five times the amount — all before the team can take its first snap.
A team needs players. Attempting to recruit players to field a brand-new football team would be difficult. There is no known culture or reputation for recruits to look at. In a Bleacher Report about Kennesaw State's journey to start a football team, they acknowledged recruitment challenges. "Anybody who signed as part of the first recruiting class in school history had to agree to a year-and-a-half of nothing but practice."
A potential work around to this issue would be to start a club football team. Roanoke College is a college in Virginia set to reintroduce DIII football in 2025. In order to achieve this, they are aiming to start with a club football team in 2024, eventually transitioning this team to the varsity level.
While this approach could be a feasible one at Drexel, it would first have to develop and sustain a club football team, something that has not shown any signs of happening anytime soon.
A considerable challenge to this is that Drexel President John Fry is publicly against a college football team. In an op-ed published in the Wall Street Journal, Fry expressed his reasons why, saying "the mounting sports [budget] losses force universities to divert funding from the fundamental task of educating students" and that, "Drexel hasn't fielded a team since 1973 when administrators realized its budget burden."
While the University of Delaware made a small profit from football in the 2021 season, most colleges lose money from their football programs.
It is highly unlikely that Drexel will restart a football team. There is no indication that administrators are looking into the possibility, and the last time a DI school was actually able to successfully start a football program was Kennesaw State in 2015.
Additionally, Drexel is already growing without a football team. Many schools that look into starting teams cite name recognition as a factor. However, if Drexel is already expanding without needing to pour millions of dollars into a sport, that money can be used to improve the lives of all students on campus.
It is certainly possible and feasible for the creation of a Drexel football team. The resources and infrastructure exist, but the desire from the administration, students, and community does not.