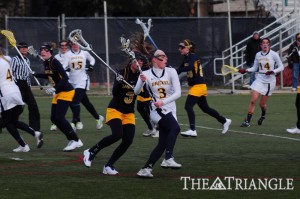 The Drexel University women's lacrosse team faced the 11th-ranked Pennsylvania State University March 22 and only lost by one goal. A little over a week later, the Dragons hosted the University of California, Davis and won 9-7.
Those two games placed Drexel at 7-3 on the season. The Dragons have the best record in the Colonial Athletic Association, but they haven't played any in-conference games.
Drexel got off to a slow start against Penn State, giving up two early goals before getting on the board. Junior attack Kelly Palace scored, followed by two more goals by the Nittany Lions. After the first half, Penn State led the Dragons 4-1. Senior attack Alyse Maiden opened the scoring in the second half for Drexel. Penn State answered with another goal, but then the Dragons scored two to come within one. Penn State netted three more, and Drexel netted one goal before the 10-minute mark. The Dragons then scored three consecutive goals, with the final goal coming with 54 seconds remaining to bring the game to an 8-8 tie. The comeback was halted, though, when Mackenzie Cyr scored with 34 seconds remaining to ice the 9-8 win for the Nittany Lions.
Palace was dominant in the game, rattling off 10 shots and scoring four goals. Maiden netted two of her own on three shots. Sophomore goalie Teresha Bradley made 11 saves and was pegged for the loss.
The Dragons welcomed UC Davis to Vidas Field March 30, and the game was taken in a different direction than the game against Penn State. UC Davis got on the board first, but the Dragons answered with a goal of their own. UC Davis went on to score four more goals in the first half, and Drexel scored three. The Dragons got goals from players who aren't usually on the scoresheet — two from sophomore attack Alissa Watts and one from senior midfielder Kristin Kopenhaver.
Maiden opened the second half with a goal to bring the game to a 5-5 tie. The Dragons held UC Davis to just two goals in the second half, while Drexel scored five. Three of the five goals came from Maiden, giving her a hat trick. Senior midfielder Kelli Joran and attack Jessica Rudloff both helped with goals in the 9-7 victory. Bradley made five saves and let in seven goals on her way to the win.
Maiden leads the team in points with 31, while Joran leads the team in goals with 23.
The Dragons will travel to Williamsburg, Va., to face The College of William & Mary in their first CAA action. The Tribe is 3-7 on the season and 0-1 in the CAA. William & Mary played Old Dominion University Feb. 26 and lost 15-9.
The Dragons will need to avoid overlooking a seemingly weaker opponent in order to start a new winning streak.