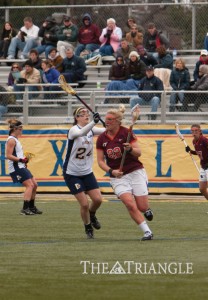 If you haven't been to a Drexel University women's lacrosse game, this would be a good time to attend one. Coming off a season in which they had earned their first-ever postseason berth, the expectations for this year's team are very high. These expectations come from no one other than themselves and head coach Anna Marie Vesco.

"We are going to be on top," Vesco said without a hesitation in her breath.

The belief she has in this team comes from the talent and experience that has been assembled. Led by senior Charlotte Wood, a preseason All-Colonial Athletic Association First Team selection, there is a focus and determination with this team that leads everyone surrounding the program to believe this is the year they will win the CAA.

The experience comes from having nine seniors who have been through it all as a team. Three out of the four losses within the conference last season were by one goal. Those losses affected not only the team's place in the standings but also the players' psyches. However, with an emphasis on communication and working together, the Dragons are determined not to let games slip through their fingers. The seniors are not the only ones who contribute to the strengths of the team. The depth of the team will be a key asset this year. They will have the ability to interchange players and not miss a beat, which will be a key asset in winning the conference this year.

"We have a lot of depth all around, and we feel confident with who is out there," senior defenseman Julia Lanzetta said.

The Dragons are going to face their first opponent of the season, George Washington University, at Vidas Field Feb. 19. Before they face George Washington, the Dragons must settle on a goalie. The competition has come down to sophomore Amanda Santandrea and freshman Teresha Bradley. While Santandrea may have a slight upper hand because she has a previous year of experience behind her, Bradley is competing very hard to earn the position.

"Teresha has improved her learning curve so much in the last three months," Vesco said of her young goalie.

The team has never been more unified, and that unification will help whomever ends up in goal to become accustomed to the team much quicker. Junior midfielder Kristin Kopenhaver also sees the team unity showing on the field, especially in their recent scrimmages.

"This year is one of our best playing as a team, and it's going to help us a lot in the season," Kopenhaver said.

Before they enter conference play they will face George Washington and St. Joseph's University Feb. 19 and 22, respectively. In those games Vesco is looking to work on the attention to detail of the team, their high-pressure defense and playing a high-tempo offense. Vesco believes that this is an all-or-nothing season — anything less than a CAA championship would be a disappointment. Her confidence has trickled down to the rest of her team.

"I think this is the year we come and show what Drexel Lacrosse is all about," Lanzetta said about her team's goal of winning the CAA.

The Dragons will kick off their season Feb. 19 against George Washington. It will be the first chance to show everyone their hard work and dedication will pay off this year. Hopefully it will pay off in the form of a CAA championship.