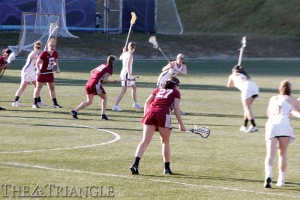 The Drexel University women's lacrosse team wasn't able to overcome top-seeded Towson University in the first round of the Colonial Athletic Association Tournament. The Dragons fell to the Tigers 8-7 May 3 in Towson, Md. The loss marked the end of the season for Drexel, with hopes of an NCAA bid slim.
The game didn't follow the same pattern as the last few games for the Dragons. Both teams came out strong in the first half, with Towson taking a slim 5-4 lead. Drexel got on the board first with back-to-back goals from junior midfielder Amanda Norcini and senior attack Alyse Maiden. The Tigers' Jackie LaMonica netted a hat trick, and then Towson scored another goal to go up 4-2. The Dragons scored a goal to get closer, but the Tigers answered with 38 seconds remaining in the half. Drexel got one more to end the half.
The Dragons came out firing in the second half with goals by senior midfielders Kristin Kopenhaver and Kelli Joran to gain a 6-5 lead. Towson answered with a goal to tie the game, but Norcini put the Dragons ahead one more time. It was none other than LaMonica who scored for the Tigers to tie it again. The Tigers netted one more to finish off the Dragons 8-7. LaMonica, with four goals, was the big factor in the game.
"As a veteran player, Jackie really took the team on her shoulders," Drexel head coach Anna Marie Vesco said. "Our pressure did not deter her. She was composed and put her shots away. She was their X factor that day."
Vesco liked the way her team played from whistle to whistle, unlike they had in the past.
"We had a great defensive scheme and went into the match with high pressure," Vesco said. "We played a hard-fought game. If it weren't for some untimely turnovers in our attacking end, which led to Towson tying us up, then we would have pulled the upset."
Towson went on to win the CAA Tournament on its home field May 5 against Hofstra University by a 9-4 score.
A day before the game, Joran and Norcini were both given First Team All-CAA honors at the CAA Awards Banquet. Joran scored 37 goals and nine assists. Joran was also the 11th Dragon to score 100 career goals, and she moved up to 13th on Drexel's all-time scoring list with 120 points. Norcini scored 20 goals on the season with 50 shots.
Maiden was also honored with Second Team All-CAA honors. Maiden scored 34 goals and had 22 assists. The sniper became the 10th Dragon to score 100 career goals. Maiden reached the 100-goal mark March 22 against The Pennsylvania State University.
Despite losing in the first round of the CAA Tournament, Vesco was impressed with the season overall.
"It was a successful season," Vesco said. "We played at a high level all year. It was a shame we had to end sooner than expected because the seniors really wanted to win the tournament, but at least we made Towson shake a little with taking the lead with six minutes left to play."