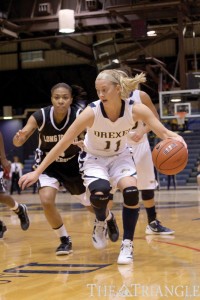 The Drexel women's basketball team was picked to finish fourth in the Colonial Athletic Association at the league's annual Media Day. The announcement came Oct. 16 after coaches in the league submitted their rankings, predicting the finishes for all 11 teams.
Also included in the many announcements on Media Day were the selections to the All-CAA team. Drexel's Hollie Mershon was named to the team as a preseason selection, meaning she is predicted to have one of the best seasons in the conference.
Mershon, a 5-foot-10-inch guard from Malvern, Pa., enjoyed a breakout season last year when she averaged 14.5 points per game and 5.2 rebounds per game. For her great play that season, she was recognized as Co-team Most Valuable Player and was selected to the conference's second team.
Despite last year's big season putting her in position for a recognition like this, the senior was still a bit surprised by the honor.
"I was a little surprised," Mershon said. "It's a great honor to be recognized among the best in the CAA. But overall, I was surprised."
The Dragons will be seeking their fifth consecutive postseason appearance. Last season they appeared in the CAA Championship Game, where they fell 59-43 to the rival University of Delaware. That came on the heels of a 19-14 season, including an impressive 12-6 record in the CAA.
This year represents a challenge to return to the championship game. The Dragons will return to the court without four key seniors from last season. Despite that, Mershon said she felt that she and her teammates can help fill the void and not miss a beat.
"We still have a strong upperclassmen base," she explained. "We have a lot of experience and a strong incoming class. We recognize the other strong teams in the conference, but we have a talented team."
Mershon makes the goals clear for the season, both for her and the team. Her goals, however, happen to circle back to the team.
"For the team, win 20-plus games and get back to the championship game," she said. "For me, it's based on the team goal and getting back to the player they need me to be."
How can she be that player they need her to be?
"Just let the game come to me," she said. "My main focus is the defensive end. We're a defensive-oriented team. We know that shots will fall [offensively], and we have to stop teams."
Mershon and Drexel will look to get things started the right way when they tip off their season Nov. 9 at Providence College.
Finally, among the other announcements at CAA Media Day were the predicted top team and player of the conference. Those awards went to Delaware and Elena Delle Donne from the Blue Hens, respectively.