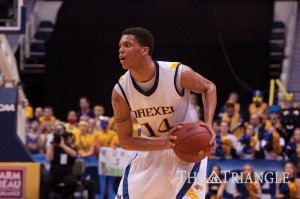 After a stretch that remained so constant, there is much uncertainty as to how the remainder of Drexel's 2011-12 men's basketball season will finish. For more than two months, the Dragons were unbeaten. Their only loss since Dec. 10 was to Georgia State University in Atlanta Jan. 2.
It was all building toward a guaranteed spot in the NCAA Tournament, all in one constant line, win after win after win.
Included in that expectation were Drexel's victories in the first two games of the Colonial Athletic Association Tournament. Drexel rolled past the University of North Carolina-Wilmington 59-47 and Old Dominion University 68-51.
That was all lost when Frantz Massenat's game-tying attempt clanked off the back of the rim in the final seconds of the championship game. It was a shot that everyone in the building thought would go through. Everyone had as much certainty that it was going in as the Dragons would have in possessing a spot in the NCAA Tournament.
"I released it, thought it was in. Everybody thought it was in," Massenat said after the game.
"On Frantz's last shot, I thought it was good, just like everyone else in the gym," guard Damion Lee said.
The game-tying attempt was unable to extend the game into overtime, and with that, the Dragons were unable to extend their winning streak to 20 as they fell to Virginia Commonwealth University 59-56.
Massenat's shot would have capped a comeback that included overcoming a 16-point halftime deficit, the largest one the Dragons faced all night. It also would have overcome the most hostile environment Drexel has stepped into this season, a sellout crowd of nearly 11,000 VCU Rams fans.
The Dragons appeared tense and playing outside of their usual game in the first half. The Dragons committed 12 turnovers in the first half, coming close numerically to matching the 19 points they put on the board.
Lee and Massenat were visibly exhausted, having played all 20 minutes of the half, en route to playing all 40 minutes total. Drexel was down a man with starting guard Derrick Thomas on suspension from the University, facing criminal charges from a December incident.
They were unable to get into any groove. Their passing was off, and that threw a number of things out of whack. Their passes to guys with good looks at three-point attempts were just off, causing their catch-and-shoot to be ineffective.
Even worse was when they threw to the wrong-colored shirts. Many of their turnovers stemmed from errant passes, including the first points of the game, when Darius Theus came away with a poor pass from Lee. Theus took it to the cup for an easy layup.
"During the course of the game, I was playing outside of my game," Lee said. "I was doing things I haven't done all season, as you saw, causing turnovers, and they got buckets off those turnovers."
Lee committed five of Drexel's 12 first-half turnovers. After a Massenat turnover, head coach James "Bruiser" Flint motioned to his point guard, along with his team, to calm down.
"We just got out of character and started playing a little bit too fast," Flint said.
Flint was furious on the sideline for most of the first half, especially when guard Chris Fouch fell asleep after VCU came away with a steal by Bradford Burgess, leaving his man Troy Daniels wide open for an easy three-pointer. With that, Drexel was in its biggest hole.
They actually could have been down by more, if not for their suffocating defense, which was not as bad as the score indicated. Sixteen of VCU's first-half points came on fast-breaks, following Drexel's many turnovers.
"Actually, the way we were playing, I thought we should be down by more, and I said that at halftime," Flint commented.
As much as he struggled, Franz Massenat showed some toughness and tried to keep his team in the game. Massenat scored eight first-half points, with each one coming on either a tough, contested jumper or an athletic drive through the lane. Unfortunately for Drexel, he was just about the only one showing any kind of intensity.
"I thought we didn't play with enough toughness," Flint explained. "The second half, we played with the toughness we usually play with."
Drexel struggled with VCU's trap and full-court press for much of the first half. Even when the press wasn't on, they made turnovers rushing up the court and fearful of an ensuing trap. Their big men also struggled, specifically Samme Givens. The senior forward did not make one field goal and went the first 38:16 without any points. He came up short, having fewer points than personal fouls and turnovers.
When Drexel's determination returned, they got back in the game. Lee took over for a good stretch in the last half, cutting the deficit to single digits with five unanswered points in about a 50-second span, a dunk following a three-pointer. VCU was forced to take a time-out after the dunk to regroup, and a feeling of panic began resonating through the packed Richmond Coliseum.
One day earlier, VCU had let George Mason University all the way back into the game, despite the Rams opening the game with a 22-0 lead and having a 28-point lead before the 10-minute mark. Having only a 16-point lead to work with at halftime, and a stronger opponent, some worrying may have begun to take place.
The prospect of a comeback got really serious when Lee, who finished with a double-double at 20 points and 10 rebounds, raced away with a steal with about 80 seconds remaining. His layup did not go through. Samme Givens, who had 15 rebounds, eventually wound up with the ball and was fouled. Givens hit one of two free throws to cut it to a three-point game.
VCU began playing tense and let Drexel back into the game more than ever. On the possession following Givens' free throw, Theus decided against taking a shot and instead passed it to Treveon Graham. After being fouled, Graham hit only one of the two free throws.
Drexel made it a two-point game after Massenat picked off a long pass from Theus and converted two free throws after he was fouled catching the ball. Daniels matched Massenat at the line, hitting both of his shots to get VCU back up by four.
Then, with 12.7 seconds left, Chris Fouch hit his third three of the half to cut it to the slimmest of margins: a one-point game. Daniels again hit both his free throws, and that set Massenat and the Dragons up for a chance to tie on their last possession.
"We got what we wanted," Flint said. "That's all you can ask yourself after you're down 15. It didn't go down, but it looked good. It was a good look, but the guys did a great job of situational basketball at the end of the game. Just fell a little bit short."
That shot, and the game loss, could lead to their failure to make the NCAA Tournament. At the very least, they are guaranteed a spot in the National Invitation Tournament, earned by their regular-season CAA title.
Whether they deserve to be in the tournament or not is up to the selection committee. Drexel will not learn of their fate until "Selection Sunday," March 11.
Although the Dragons do not have many quality wins to their resume, the national feeling is that their comeback to get back in the game against VCU, their 19-game winning streak and their 27 wins are enough to earn a bid.
Shaka Smart, head coach of VCU, thinks the Dragons deserve to be selected. Smart witnessed Drexel on the court twice in person this season, going 1-1 against them.
"There's no doubt they're an NCAA Tournament team," Smart said. "To me, they're definitely in."
Only one team in NCAA history, since the bracket began its current four-region format of 64 teams, has not been invited to compete in the NCAA Tournament following a 27-win season. Coastal Carolina University got snubbed in 2010 after winning 28 games.
Coach Flint is reserving his expectation because he remembers the disappointment following the 2006-07 season.
"In '07, we had everyone there, the cameras on, the party was getting set to begin, and we just never got the call," Flint recalled.
The NIT is nice because it allows Drexel to keep playing, and senior Samme Givens gets to wear his blue-and-gold number 45 at least once more, but it is not the same as the NCAA Tournament and March Madness.
Drexel has made four appearances in the NCAA Tournament all-time since joining Division I in 1973. They've made the same amount of NIT appearances just in the last 10 seasons.
All they can do now is hope for a minimal amount of unlikely teams to receive automatic bids by winning their conference tournaments, which would result in more at-large bids being taken by the teams that got upset in their conference tournaments.
That hole they dug a few points too deep in the first half could ultimately be too big for them to climb out of into the national spotlight later this month.
"We controlled our own destiny, and we just fell short today," Lee said.