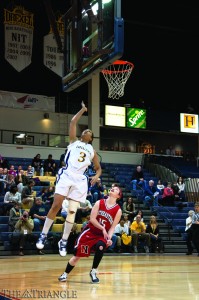 A team's pulse can often be seen through its defense. Defense is where teams bear down on their opponent. It often requires energy and determination, more so than on offense. It is where most successful teams put their heart and soul on display.
There is the famous theory that defense wins championships, but there is more to it than it being because the other team cannot score. In most cases, a strong defensive group will be the product of a solid foundation of team ideals and concepts. So in most cases, when you are observing a team's defense, you are observing a team's pulse and personality.
In the Drexel women's basketball team's latest big win, their defense was certainly on display for observation. Facing the Pittsburgh Panthers on the road, the defense was challenged with facing a team that came in averaging 64.3 points per game.
In their 71-50 victory Nov. 26, Drexel limited the annual Big East contender to nearly 15 points off of their average — again, on their home floor. After limiting them to a 31-percent shooting clip in the first half, Pitt finished the game only making one-third of the shots they took from the field.
Drexel now ranks second in the Colonial Athletic Association in points per game allowed on defense at 57. Only George Mason has allowed fewer points to their opponents than the Dragons with 54. They led the entire CAA last year with 57.4 points per game allowed.
Statistics aside, the Pitt game alone showed Drexel's pulse. It will continue to beat in any spot they are placed in and against anyone. They were playing in front of the biggest crowd they've seen in person so far this season, in a Big East team's building, and shut down their opponent's offensive game. That's a comforting item to keep in mind moving forward on the season's schedule, just as it is comforting to have a steady beat pumping.
But who keeps the pulse beating? Who gives it that personality? Almost always, it is the captain or the leader of the team. If a team lacks a leader, chances are the pulse on their season going anywhere will not beat very long. Looking back to the Pitt game, we can look at the defense to learn about this team's pulse and who is pumping it.
With the correlation of defense to a team's pulse in mind, consider some of the structure of a defense. Every great defensive unit has an equally great captain or anchor that turns them from a good unit into a great one. That leader can do it a number of ways, from being vocal to simply leading by example. The one "must" is that he or she needs to bring energy and enthusiasm to the group.
Fortunately for Drexel's women's basketball team, they have a natural fit for the captain position in forward Tyler Hale. The senior does everything you would look for in a captain — lead, bring energy and make major contributions to the team's success, being Drexel's best defender. She keeps the team's pulse beating. Hale is the captain of the team, and it is evident that she really is the leader of the team because of how responsive everyone around her is to her energy and enthusiasm.
The energy and enthusiasm of a leader is often the factor that most contributes to a team raising its level of play. Think of Ray Lewis or Bill Russell (again, defense). Their passion and energy are contagious. Head coach Denise Dillon sees Hale's energy rubbing off on her teammates.
"Ever since being on campus, her energy and commitment has been contagious," Dillon said.
What makes her so valuable? To start, she plays an important role in keeping the team focused. Dillon said she keeps people on the team "in-check," which, in Dillon's head-coaching eyes, is an extension of the coaches. That's some significant value, having the likes of an additional coach on a collegiate team.
Hale's value extends from being just the leader of the defense and of the team and keeping everyone in check. She is not just another captain. The fact is that she is a true, natural leader and should be appreciated because of the scarcity of such a piece to a team.
Although the captain position has existed throughout sports, the supply rarely matches the demand. People are named to it but not all actually fulfill the position. And it is not a position you can build and fill the slot long-term, you need to have one naturally — like a heart. Before considering what their game and skills bring to the team, this quality alone is what makes the ones who can fill the position as captain and leader some of the more valuable pieces to a team.
There is a unique set of skills and leadership qualities that an individual needs to have in order to be the right man or woman for the job. It's not as simple as building your own captain or following a model.
A big reason why it cannot be done is because you can't simply teach or develop someone to be a captain. Think about some of the types of coaches that specialize in teaching or developing a certain skill in all sports. There are coaches that may be great at teaching mental abilities, defensive schemes or maybe teaching how to break down an opponent or film.
Even for physical skills, great quarterback coaches or pitching coaches exist. But for all the different types of coaches and teachers that exist out there, again considering all of sports, there is no coach that specializes in teaching how to be a captain or leader. We've heard of coaches with nicknames like Herb Magee's "shot doctor." How many "captain doctors" or "team leader doctors" do you know?
It goes back to the limitation that is one's ability to simply be created or molded into a leader. The reality is that a captain cannot be created. And that itself adds to Hale's value to the team.
At the root of Hale's ability to lead on defense is her own ability to defend. She is a tremendous defender and has been throughout her tenure with the Dragons. Last season, Hale earned the team's Defensive Player Award. She has given Dillon and the rest of the team reason to have their complete trust in her to lock down the opponent she matches up against on defense.
"We absolutely have confidence in her in defending anyone," Dillon explained. "She's strong enough and quick enough, and it helps to know that we can send her out there on anyone."
Dillon attributes Hale's success on the court to her willingness to work on two areas — rebounding and defense.
"We've tried to get her to focus on those two things, and she's bought into them," she said.
To say the least, she is not just a one-dimensional player. Her game features offense as well. Over the course of her four years at Drexel, Hale has developed more of a shot, and it has allowed her to open things up on the floor.
Dillon sees this as a product of Hale's work ethic. Not a bad trait to have in your team leader. Throw in being a good student in the classroom (Hale earned Honorable Mention Academic All-Conference recognition), and you have a well-rounded leader. Although she is a rare natural captain, she seems like what you might expect a designed captain to be.
Going back to the Pitt game again, we can find another encouraging sign that Hale is, in fact, a true leader. The game against Pittsburgh was, to date, the biggest game of Drexel's short season. Hale had by far her best game highlighted by her 12 boards. This is not the first time she has performed well in a big game, in fact having good games in even bigger stakes.
In her freshman year, playing in the semifinals of the CAA Tournament against Old Dominion University, Hale picked up then-career-highs with four steals and 10 rebounds. She also set what would then become a career-high in points per game with 12 the following season playing against CAA rival and eventual conference champion James Madison. Her trend of having some of her best games in some of the biggest games is yet another quality that is consistent with the quintessential leader.
So this season is not the first time or even the first year that Hale has shown leadership abilities. Even in her sophomore year she was seen as a leader. Following the 2009-10 season Hale was awarded with the team's Spirit/Leadership Award. It turned out that it was not just a fluke season; she continued to grow and become more of a leader. With that, her game also improved.
"Watching her grow and seeing her grow over four years has been a great thing to watch and see her be the best she can be," Dillon said.
Hale has most of her senior season left, so maybe there is more growth to come. Look for her to continue to be the best she can be, especially in those big games. If she can keep Drexel's pulse beating and lead on defense in those big games, it should be a successful run through the CAA. If Drexel continues playing the type of defense it has displayed early, with Hale leading the way, they should win a championship according to that old theory.