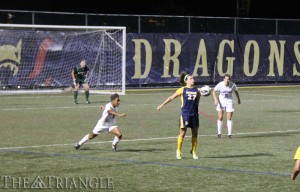 The Drexel's women's soccer team took another step back this week, this time to Colonial Athletic Association foes. The Dragons lost to Towson University on the road and at Vidas Field to The College of William & Mary to fall to 4-7-1 on the year in the conference openers.
From the opening kickoff Sept. 29 against the Tigers, everything went wrong for Drexel, and they found themselves in the hole before they could even touch the ball. Katlyn Axenfeld connected with a pass from Emily Banes and directed it right over Dragons goalkeeper Eve Badana to give Towson the early advantage.
The early hole only grew deeper. Less than three minutes later, Banes set up another goal, this time connecting with Katie Ponce. Banes' pass was an identical one from her first assist, as Ponce beat Badana, receiving the pass from her left.
The Tigers carried a 2-0 lead into the half despite only firing three shots to Drexel's six. Unable to solve Towson's Erin Quinn, the Dragons never got back in the game.
Ponce sealed the game for Towson with a goal about 10 minutes into the second half. Of the five shots Towson fired all game, it was one of three goals Badana could not stop. Drexel, by comparison, got off 13 shots and ended up having nothing to show for it.
Offensively, the Dragons remained stalled in their game Oct. 3 against William & Mary, falling 2-0. A goal each from Emory Camper and Anna Madden paced the Tribe to victory.
The team has struggled offensively, failing to score for the fifth time in the last six games. They have a total of two goals in the last eight games. Despite the struggles, head coach Ray Goon said they will not try to change too much offensively.
"I don't know if we'll do anything drastically different because we've been generating our fair share of opportunities to score every game," he said. "Colorado College outshoots us 15-7 and we lose 3-0. We outshoot Towson 13-5 and still lose 3-0. It can be a funny and cruel sport sometimes. We'll tweak a few things here and there, but I don't think there's reason to change things radically."
He did observe that the team had a tendency to get mentally discouraged in the games against La Salle University and Towson. That could explain why they struggled so much to get back into those games. As has been the case many times this season, the Dragons fall behind and struggle to pick themselves up and get out of the hole. They are 0-7-1 this season when surrendering the first goal. In only one of those games, the tie to Villanova University, were they actually able to produce a goal after falling behind.
"There were pockets during the game when our level would drop mentally and/or physically, and they made us pay for it," Goon said. "Whether it's a legitimate NCAA Tournament-caliber team [like La Salle] or any of our conference opponents, you can't let your guard down for long or they'll make you pay for it."
A big factor for the struggles has been the injuries. Drexel has been without senior captain Sam Greenfield for all but 112 minutes this season with a broken leg. Overall, 11 different Dragons have missed at least one game this season with an injury. Goon said the injuries definitely have hurt the effort to establish consistency, but he's not labeling them as an excuse.
"That's how the season has been framed out for us, and the team continues to search for solutions rather than excuses," Goon said.
Looking ahead, Drexel now turns its attention to James Madison University. The two teams will square off Oct. 6 at noon at Vidas Field, as Drexel continues its four-game homestand. Goon and the Dragons know they need to win anywhere, but the home-field advantage is something they welcome.
"It certainly doesn't hurt to have these next few games on our home field, but wherever we play, we'll still need to work for the entire game," he said. "Playing in front of our fans will no doubt help us do that."
There is perhaps some revenge on the line, however. Drexel is the team responsible for keeping JMU out of the playoffs for an 11th straight year last season. The Dragons took down the Dukes with seven seconds left to end their 2012 campaign.
"I don't think they'll be congratulating us for doing that on Sunday," he said. "I expect a battle."